Eight people remain missing after the building they lived in exploded and collapsed near the port of Marseille, French officials have said.
More than 100 firefighters worked to extinguish flames deep within the rubble of the five-storey building, but more than 17 hours later "the situation is not yet stabilised", Marseille prosecutor Dominique Laurens told reporters.
Earlier in the day, officials had thought that between four and 10 people may have been trapped.
Ms Laurens said police have yet to confirm the apparent disappearance of a ninth person who lived in a building next door.
Five people suffered minor injuries from the collapse, which occurred shortly before 1am on Sunday.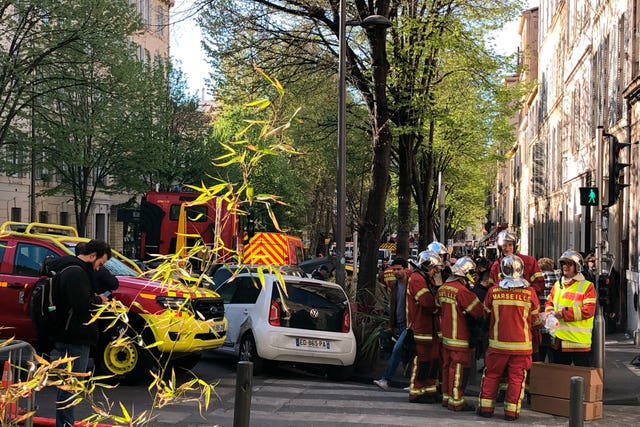 The buildings were among evacuated structures.
Drones and probes have been used to examine the scene for signs of life.
"We cannot intervene in a very classic way," interior minister Gerald Darmanin said during a morning visit to the site.
He added that the fire was burning a few metres under the mounds of debris and that both water and foam represent a danger to victims' survival.
A gas explosion is among one of the theories being explored, Ms Laurens, the prosecutor said. But the start of the probe also was limited by the heat of the blaze.
"The flames weren't pink. They were blue," Mr Payan said.
Firefighters, with the help of urban rescue experts, worked through the night and all day on Sunday in a race against time. The delicate operation aimed to keep firefighters safe, prevent further harm to people potentially trapped in the rubble and not compromise vulnerable buildings nearby, already partially collapsed.
Some 30 buildings in the area were evacuated, Mr Darmanin said.
The building that collapsed is located on a narrow street half a mile from Marseille's old port, adding to an array of difficulties for firefighters and rescue workers. The prosecutor said the building and those next door "are not at all substandard buildings".
French President Emmanuel Macron and Prime Minister Elisabeth Borne both said in tweets that their thoughts were with people affected, and gave their thanks to the firefighters.