The United States and the Philippines are holding their largest combat exercises in decades, including a boat-sinking rocket assault in waters across the South China Sea and the Taiwan Strait that is likely to infuriate China.
The annual drills called Balikatan, meaning shoulder to shoulder, will run up to April 28 and involve more than 17,600 military personnel.
It is latest display of American firepower in Asia, where Washington has repeatedly warned China over its increasingly aggressive actions in the disputed sea channel and against Taiwan.
The Biden administration has been strengthening an arc of alliances in the Indo-Pacific to better counter China, including in a possible confrontation over Taiwan.
That dovetails with efforts by the Philippines under President Ferdinand Marcos Jr to defend its territorial interests in the South China Sea by boosting joint military exercises with the US and allowing rotating batches of American forces to stay in more Philippine military camps under a 2014 defence pact.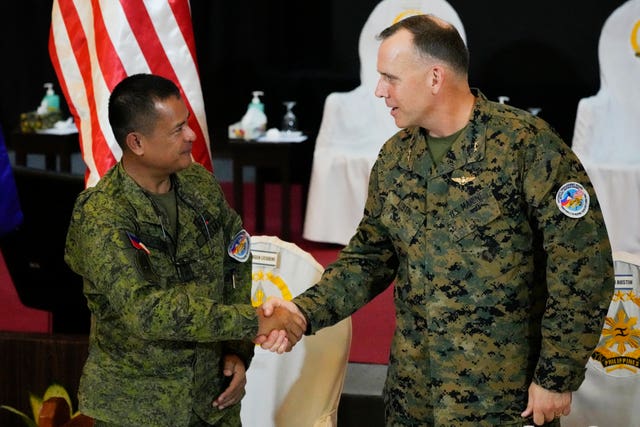 America's warships, fighter jets as well as its Patriot missiles, Himars rocket launchers and anti-tank Javelins, will be showcased, according to US and Philippine military officials.
"We are not provoking anybody by simply exercising," Michael Logico, a Philippine spokesman for Balikatan, told reporters ahead of the start of the manoeuvres.
"This is actually a form of deterrence," Mr Logico said. "Deterrence is when we are discouraging other parties from invading us."
In a live-fire drill the allied forces are staging offshore for the first time, Mr Logico said US and Filipino forces will sink a 200ft target vessel in Philippine territorial waters off the western province of Zambales this month in a coordinated air strike and artillery bombardment.
"We will hit it with all the weapons systems that we have, both ground, navy and air," Mr Logico said.
That location facing the South China Sea and across the waters from the Taiwan Strait would likely alarm China but Philippine military officials said it was aimed at bolstering the country's coastal defence and was not aimed at any country.
Such field scenarios would "test the allies' capabilities in combined arms live-fire, information and intelligence sharing, communications between units, logistics operations, amphibious operations", the US Embassy in Manila said.
China last week criticised the intensifying US military deployment to the region.
Chinese Foreign Ministry spokesperson Mao Ning said in a regular news briefing in Beijing that it "would only lead to more tensions and less peace and stability in the region".
The Balikatan exercises were opening in the Philippines a day after China concluded three days of combat drills that simulated sealing off Taiwan, following Taiwanese president Tsai Ing-wen's meeting with House Speaker Kevin McCarthy last week in California that infuriated Beijing.
On Monday, the US 7th Fleet deployed guided-missile destroyer USS Milius within 12 nautical miles of Mischief Reef, a Manila-claimed coral outcrop which China seized in the mid-1990s and turned into one of seven missile-protected island bases in the South China Sea's hotly contested Spratlys archipelago.
The US military has been undertaking such "freedom of navigation" operations for years to challenge China's expansive territorial claims in the busy seaway.