A US Capitol police officer who tried to help a Virginia fisherman avoid criminal charges for storming the building has been sentenced to two years of probation and four months of home detention.
Michael Angelo Riley, 51, was on duty when a mob attacked the Capitol on January 6, 2021, injuring more than 100 officers.
Riley said his "awful judgment" cost him his career, tarnished his reputation, ended friendships in the department and traumatised his family.
"The amount of regret and remorse I have over this situation in unimaginable," Riley told US District Judge Amy Berman Jackson before she sentenced him.
The judge said Riley's actions were "shocking conduct for any member of law enforcement".
"You knew exactly how bad January 6 was," she added. She also ordered him to pay a 10,000 dollar (£7,980) fine and perform 150 hours of community service.
On January 6, 2021, Riley investigated a report of an explosive device at Republican National Committee headquarters and helped an injured officer.
The following day, he posted a Facebook message calling for federal charges against anybody who assaulted police, damaged property or breached the Capitol.
"If we don't send a message it will surely happen again," he wrote.
Less than two hours later, Riley read a Facebook post by Jacob Hiles, a fisherman he knew from YouTube videos. Hiles wrote about his own participation in the riot and posted a video of rioters clashing with police.
Riley, of Maryland, privately messaged Hiles and identified himself as a Capitol police officer who agreed with his "political stance".
"Take down the part about being in the building they are currently investigating and everyone who was in the building is going to be charged. Just looking out!" Riley wrote.
They continued to exchange friendly messages until Hiles told Riley that the FBI was "very curious" that they had been communicating.
"They took my phone and downloaded everything," Hiles wrote.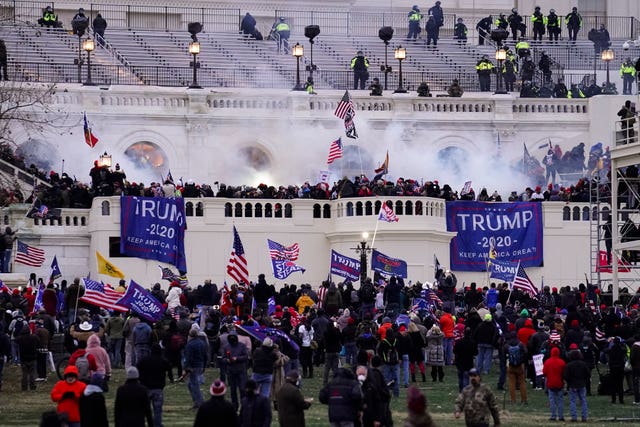 Riley was charged with two counts of obstruction of justice. In October 2022, a jury convicted him of one count but deadlocked on the second.
Riley described his actions as "stupid and reckless" but said he did not think he was breaking the law.
"It certainly doesn't excuse my lapse in judgment," he said.
Riley "fully understood the horrors of" the January 6 attack, Assistant US Attorney Christopher Howland said in a court filing.
"And yet, when the time came for (Riley) to hold the line, he sided with a known rioter, a person he had never met or spoken to, because of the rioter's political views and because he happened to be a good fisherman," Mr Howland wrote.
Riley's lawyers said he already has paid a steep price for contacting Hiles as he has lost his job.
"If he could do it all over again, he never would have contacted him," they wrote.
Hiles pleaded guilty in September 2021 to a misdemeanor count of parading, demonstrating or picketing in a Capitol building. Judge Jackson sentenced him in December 2021 to two years of probation and ordered him to complete 60 hours of community service.
More than 1,000 people have been charged with federal crimes related to the January 6 riot. More than 600 of them have pleaded guilty or been convicted after trial.
More than 450 have been sentenced, with over half getting terms of imprisonment ranging from seven days to 10 years.
More than 100 police officers were injured at the Capitol on January 6.
Also on Thursday, a different judge is scheduled to sentence a Michigan man who pleaded guilty to assaulting a police officer at the Capitol during one of the most brutal clashes between rioters and law enforcement.
Logan Barnhart, a pipelayer who modelled for covers of romance novels, grabbed an officer by his neck and torso and dragged him into the crowd of rioters on the Capitol's Lower West Terrace. Minutes later, Barnhart returned to a police line and struck other officers with a flagpole.