Russia might be willing to discuss a potential prisoner swap with the US involving Wall Street Journal reporter Evan Gershkovich after his trial on espionage charges, a top Russian diplomat has said.
Mr Gershkovich, 31, his employer and the US government all deny he was involved in spying and have demanded his release.
Deputy foreign minister Sergei Ryabkov told the state news agency Tass that talks about a possible exchange could take place through a dedicated channel that Russian and US security agencies established for such purposes.
"We have a working channel that was used in the past to achieve concrete agreements, and these agreements were fulfilled," Mr Ryabkov said, adding that there was no need for the involvement of any third country.
"The issue of exchanging anyone could only be considered after a court delivers its verdict," he was quoted by Tass as saying.
That practice is in keeping with previous cases in which Russian authorities have insisted on completing the judicial process before considering exchanges.
It is not clear how long the investigation could last, but other espionage cases have lasted for a year or more.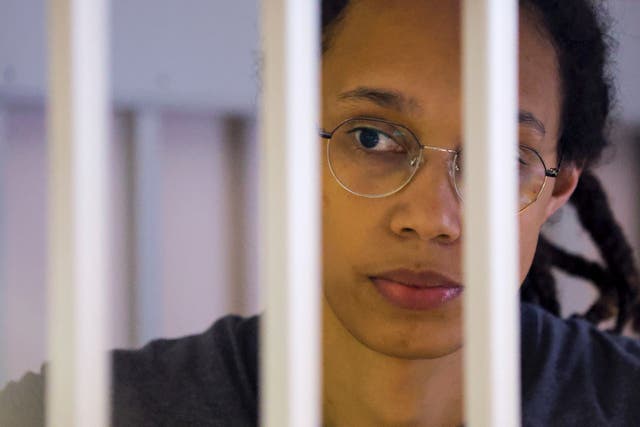 She had been sentenced to nine years in prison and ended up spending 10 months behind bars.
Another American, Michigan corporate security executive Paul Whelan, has been imprisoned in Russia since December 2018 on espionage charges that his family and the US government have called baseless.
During the Griner case, the Kremlin repeatedly urged the United States to use the "special channel" to discuss it and work on a potential prisoner swap, saying such private communications were the only appropriate means for resolution, rather than public statements and speculation.
Mr Gershkovich could face up to 20 years in prison if convicted. Russian lawyers have said past investigations into espionage cases took a year to 18 months, during which time he could have little contact with the outside world.
A Moscow court has received a defence appeal of his arrest and it is scheduled to be considered on April 18.

Speaking at a panel discussion on the case on Wednesday at Columbia University in New York, the newspaper's chief news editor, Elena Cherney, said the Journal's lawyers had visited Mr Gershkovich three times, that he appears to be in good spirits and health, and that he had received updates on one of his favorite football teams, Arsenal.
US Secretary of State Antony Blinken urged his Russian counterpart, Sergei Lavrov, this month to immediately secure the release of both Mr Gershkovich and Mr Whelan.
US President Joe Biden spoke to Mr Gershkovich's parents on Tuesday and again condemned his detention.
"We're making it real clear that it's totally illegal what's happening, and we declared it so," he said.
On Monday, the US government declared Mr Gershkovich as "wrongfully detained", a designation that means that a particular State Department office takes the lead on seeking his release.
Russia's Federal Security Service, or FSB, arrested Mr Gershkovich in Yekaterinburg, Russia's fourth-largest city, on March 29. He is the first US correspondent since the Cold War to be detained in Russia for alleged spying.
The FSB, a successor agency to the Soviet-era KGB, accused Mr Gershkovich of trying to obtain classified information about a Russian arms factory.
On Thursday, Kremlin spokesman Dmitry Peskov again emphasised Moscow's claim that Mr Gershkovich was caught red-handed. He denied reports that Russian President Vladimir Putin had personally sanctioned Mr Gershkovich's arrest.
"It's not the president's prerogative. It's up to the special services, who are doing their job," Mr Peskov said in a conference call with reporters.
The US has pressed Russian authorities to grant US consular access to Mr Gershkovich. Russian Foreign Ministry spokeswoman Maria Zakharova said on Wednesday that Moscow would provide it "in due time in line with the consular practices and Russian legislation".
Mr Gershkovich is held in Moscow's Lefortovo prison, which dates from the tzarist era.
Mr Whelan was also held in Lefortovo until he was sent to other prison to serve his 16-year sentence after his conviction in 2020.
The Wall Street Journal launched a campaign to support Mr Gershkovich, offering the public a way to submit letters to him via its website. Members of the Journal's newsroom posted photos of themselves wearing T-shirts that read #IStandWithEvan.
"We need to make sure that Evan and his wrongful detention and the effort to get him back remain in the public consciousness and don't fade with the news cycle," Ms Cherney said in explaining the campaign's goal at Wednesday's event at Columbia.
"What we're doing is trying to ensure that we do reach Evan with these messages," she added. "We do what we can to keep his spirits up, as well."