American-made Patriot missiles have arrived in Ukraine, according to the country's defence minister.
The US agreed in October to supply the surface-to-air systems, which can target aircraft, cruise missiles and shorter-range ballistic missiles which Russia has used to bombard residential areas and the Ukrainian power grid.
Defence minister Oleksii Reznikov tweeted: "Today, our beautiful Ukrainian sky becomes more secure."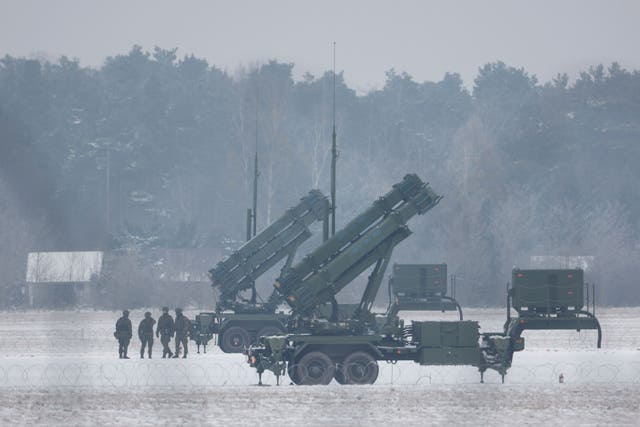 Western allies have pledged tanks, artillery and some fighter jets as Ukraine gears up for an expected counteroffensive.
German foreign minister Annalena Baerbock confirmed a Patriot system was among military item delivered in the past week, saying the second of four medium-range IRIS-T air defence systems pledged by Germany last year had also been delivered.
Air force spokesman Yurii Ihnat said delivery of the systems would be a landmark event, allowing Ukrainians to knock out Russian targets at a greater distance.
Ukrainian personnel have been trained on the Patriot battery, which requires up to 90 troops to operate and maintain it.
The Patriot was first deployed by the US in the 1980s.
The system costs approximately four million US dollars (per missile, and the launchers cost about $10 million each, analysts say.
At such a cost, it's not advantageous to use the Patriot to shoot down the smaller, cheaper Iranian drones that Russia has been buying and using in Ukraine.
Russian President Vladimir Putin said on Wednesday he has visited Moscow-controlled parts of Ukraine's southern Kherson and easternmost Luhansk provinces.
"The purpose of the trip was to meet with the military, whom I did not want to distract for a long time and a long distance from the deployment of the units they command," he said.