The Minnesota police officer who mistook her gun for a Taser and killed Daunte Wright in 2021 has been released from prison, authorities said.
Kim Potter was set free at 4am "out of an abundance of caution", the Minnesota Department of Corrections confirmed.
Potter, a white officer for a suburban Minneapolis department, fatally shot Mr Wright, 20, who was black, during a traffic stop in April 2021.
The shooting happened during the trial of Derek Chauvin, the officer who killed George Floyd in Minneapolis in May 2020.
Mr Wright's death led to several days of protests.
Now 50, Potter appeared much thinner in a new photo released last week by the Department of Corrections. Her lawyer, Earl Gray, said he had "no idea" why her appearance had changed.
Potter was released from the Minnesota Correctional Facility-Shakopee and will be on supervised release until December 21, when her two-year term sentence for manslaughter expires.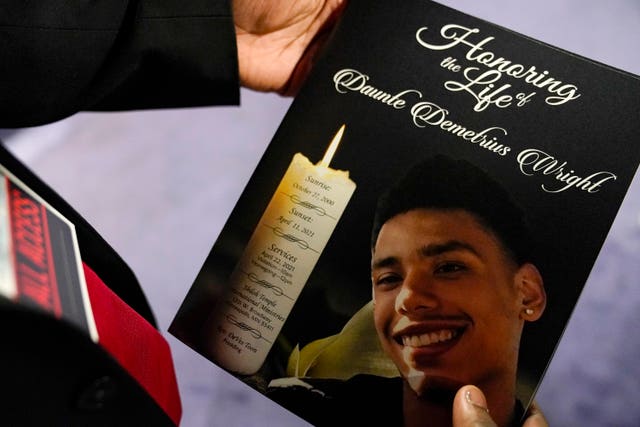 Minnesota law requires those sent to prison to serve two-thirds of their sentence behind bars and the remaining time on supervised release, Mr Skoogman said. In Potter's case, she served 16 months of her two-year sentence.
"The term of imprisonment is set by law; there is no parole board and no time off for good behaviour," Mr Skoogman said.
The sentence from Judge Regina Chu drew strong criticism from Mr Wright's family and civil rights lawyer Ben Crump.
The state attorney general's office had sought a sentence recommended by state guidelines of just over seven years in prison.
Mr Wright's mother, Katie Wright, said after the sentencing that Potter "murdered my son", adding: "Today the justice system murdered him all over again."
Defence lawyers argued at the sentencing hearing that Potter deserved leniency because Mr Wright was trying to drive away and Potter had the right to defend herself.
Judge Chu said at the time that the case was not the same as other high-profile killings, including George Floyd's death that resulted in a 22-year sentence for Chauvin.
"This is a cop who made a tragic mistake," she said.
Mr Wright, a 20-year-old father, was killed on April 11 2021, after Brooklyn Centre officers pulled him over for having expired licence tags and an air freshener hanging from his rearview mirror.
Officers discovered he had a warrant for a misdemeanour weapons possession charge and he was shot during a struggle as officers tried to arrest him.
Civil rights advocates say laws against hanging objects from rearview mirrors have been used as a pretext for stopping black motorists.
Potter is heard on video yelling "Taser" several times just before she fires her pistol as Mr Wright tried to drive away from the traffic stop.
Potter, a 26-year police veteran, apologised to Mr Wright's family at sentencing and spoke directly to his mother: "Katie, I understand a mother's love. I'm sorry I broke your heart … my heart is broken and devastated for all of you."