Italian premier Giorgia Meloni has called for unity as she marked the anniversary of the country's liberation from the Nazis and their Fascist allies on April 25 1945.
Ms Meloni, whose hard-right Brother of Italy party traces its roots to the wreckage of Italian fascism at the conclusion of the Second World War, rejected accusations of fascism nostalgia within the party.
In an open letter to Italian daily Il Corriere della Sera, Ms Meloni wrote that she hoped that the celebrations could be an occasion of "renewed national concord", strengthening Italy's role in the world as an "essential stronghold of democracy".
Allies and aides of the 46-year-old premier have been accused on several occasions of downplaying atrocities carried out by the Nazis and Fascists, or distorting historical facts concerning the partisan movement that fought to liberate the country.
Ms Meloni used the word "watershed" to remember April 25 1945 in her letter, defining it as a crucial moment in Italian history, as it paved the way for the victory of those "democratic values, that Fascism had crushed and that we find carved into the Italian Republic's constitution".
Ms Meloni has repeatedly sought to allay concerns about her party's neo-fascist roots, insisting that the Italian right had handed fascism over to history and unambiguously condemned the suppression of democracy and anti-Jewish laws.
Some critics, however, have stressed that she has never clearly declared her party's "anti-fascist" stance since she stepped into power at the helm of the most conservative government since the war.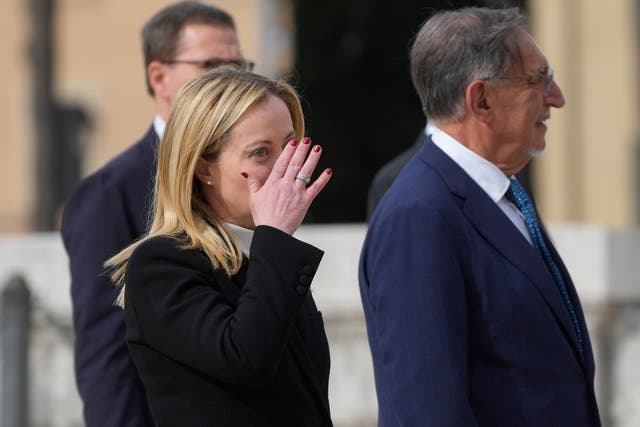 Since becoming premier in October, Ms Meloni has reached out repeatedly to members of Rome's Jewish community.
But one of the Brothers of Italy's leaders, Senate president Ignazio La Russa – who proudly displayed Mussolini memorabilia in his home – recently reignited the controversy around the party's roots, saying that the Italian constitution never openly included the word "anti-fascism".
As a teenager, Ms Meloni joined the youth branch of Italy's neo-fascist party, the Italian Social Movement, or MSI, which was part of Italy's first post-war government in 1946. She then went on to lead the youth movement of MSI's successor party, the National Alliance.
The Brothers of Italy party succeeded the National Alliance and retains the tricolour flame of the original MSI as its logo.