President Joe Biden has formally announced that he is running for re-election in 2024, asking voters to give him more time to "finish the job" he began when he was sworn in to office.
Mr Biden, who would be 86 at the end of a second term, is betting his first-term legislative achievements and more than 50 years of experience in Washington will count for more than concerns over his age.
He faces a smooth path to winning his party's nomination, with no serious Democratic rivals. But he is still set for a hard-fought struggle to retain the presidency in a bitterly divided nation.
"I said we are in a battle for the soul of America, and we still are," Mr Biden said. "The question we are facing is whether in the years ahead we have more freedom or less freedom. More rights or fewer."
While the question of seeking re-election has been a given for most modern presidents, that has not always been the case for Mr Biden, as a notable swathe of Democratic voters have indicated they would prefer he not run, in part because of his age — concerns that Mr Biden has called "totally legitimate" but ones he did not address head-on in the launch video.
Yet few things have unified Democratic voters like the prospect of Mr Trump returning to power.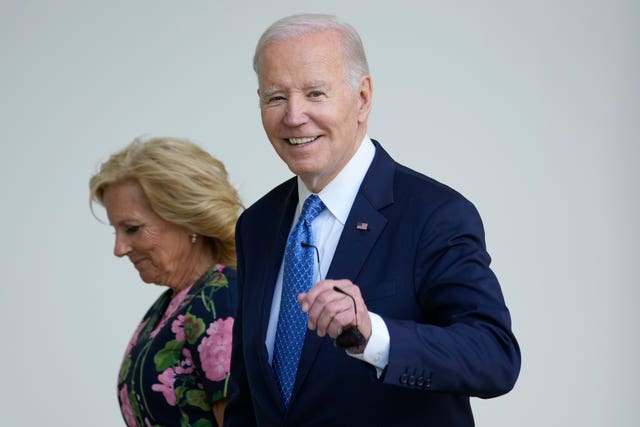 "Freedom. Personal freedom is fundamental to who we are as Americans. There's nothing more important. Nothing more sacred," Mr Biden said in the launch video, which painted the Republican Party as extremists trying to roll back access to abortion, cut Social Security, limit voting rights and ban books they disagree with.
"Around the country, MAGA extremists are lining up to take those bedrock freedoms away."
"This is not a time to be complacent," Mr Biden added. "That's why I'm running for re-election."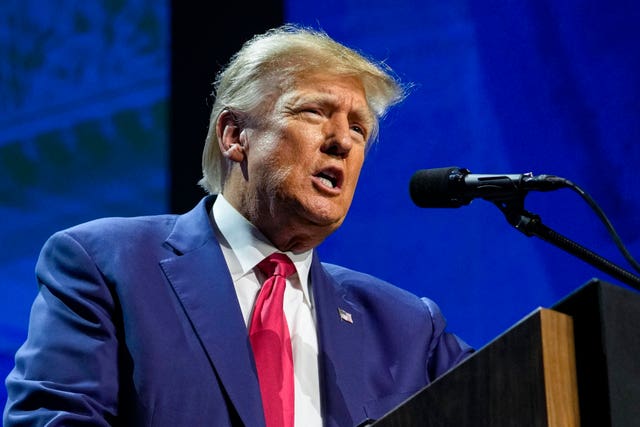 He spent his first two years as president combating the coronavirus pandemic and pushing through major Bills such as the bipartisan infrastructure package and legislation to promote high-tech manufacturing and climate measures.
With Republicans now in control of the House, Mr Biden has shifted his focus to implementing those massive laws and making sure voters credit him for the improvements, while sharpening the contrast with the Republican Party ahead of an expected showdown over raising the nation's borrowing limit that could have debilitating consequences for the country's economy.
But the president also has multiple policy goals and unmet promises from his first campaign that he is asking voters to give him another chance to fulfil.
"Let's finish this job. I know we can," Mr Biden said in the video, repeating a mantra he said a dozen times during his State of the Union address in February, listing everything from passing a ban on assault-style weapons and lowering the cost of prescription drugs to codifying a national right to abortion after the Supreme Court's ruling last year overturning Roe v Wade.
Buoyed by the mid-term results, Mr Biden plans to continue to cast all Republicans as embracing what he calls "ultra-MAGA" politics — a reference to Trump's "Make America Great Again" slogan — regardless of whether his predecessor ends up on the 2024 ballot.
He has spent the last several months road-testing campaign themes, including painting Republicans as fighting for tax cuts for businesses and the wealthy while trying to cut social safety net benefits relied on by everyday Americans and roll back access to abortion services.
Mr Biden, speaking over brief video clips and photos of key moments in his presidency, snapshots of diverse Americans and flashes of his outspoken Republican foes, including Mr Trump, Florida Governor Ron DeSantis, and Representative Marjorie Taylor Greene of Georgia, exhorted supporters that "this is our moment" to "defend democracy, stand up for our personal freedoms, stand up for the right to vote and our civil rights".
Mr Biden plans to point to his work over the past two years shoring up American alliances, leading a global coalition to support Ukraine's defences against Russia's invasion and returning the US to the Paris climate accord.
But public support in the US for Ukraine has softened in recent months, and some voters question the tens of billions of dollars in military and economic assistance flowing to Kyiv.
"If voters let Biden 'finish the job', inflation will continue to skyrocket, crime rates will rise, more fentanyl will cross our open borders, children will continue to be left behind, and American families will be worse off," Republican National Committee chairwoman Ronna McDaniel said in a statement.
On Tuesday, Mr Biden named White House adviser Julie Chavez Rodriguez to serve as campaign manager and Quentin Fulks, who ran Senator Raphael Warnock's reelection campaign in Georgia last year, to serve as principal deputy campaign manager.
The campaign co-chairs will be Representatives Lisa Blunt-Rochester, Jim Clyburn and Veronica Escobar; Senators Chris Coons and Tammy Duckworth; entertainment mogul and Democratic mega-donor Jeffrey Katzenberg; and Michigan Governor Gretchen Whitmer.
On the heels of the announcement on Tuesday, Mr Biden was set to deliver remarks to union members before hosting South Korean President Yoon Suk Yeol for a state visit at the White House. He plans to meet party donors in Washington later this week.