Ukraine's prime minister said he has asked Pope Francis during a private Vatican audience to help facilitate the return of Ukrainian children forcibly taken to Russia.
Denys Shmyhal, briefing reporters on his half-hour audience with the pontiff, said he has also invited Francis to visit Ukraine.
"I asked the Vatican and the Holy Father for help in getting back children taken by force by Russia," the prime minister said.
The Vatican's brief statement on the audience did not go into particular points of the talks.
It said Mr Shmyhal met the Holy See's secretary of state and foreign minister after his meeting with Francis.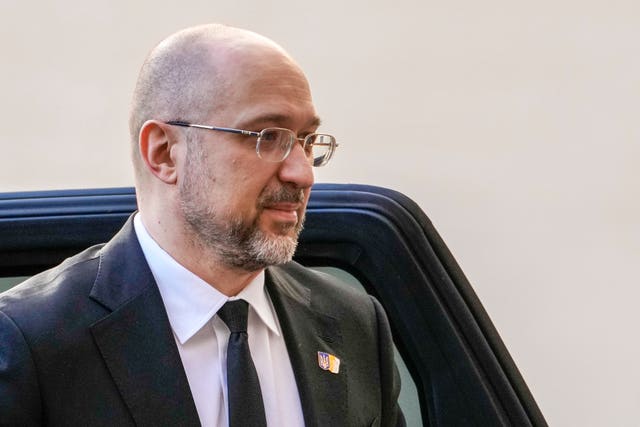 Francis has repeatedly decried the war in Ukraine, which began 14 months ago with Russia's invasion of its neighbour.
He has expressed a desire to visit Ukraine and Russia in the context of his hopes of improving the prospects for peace.
The International Criminal Court last month issued an arrest warrant for Russian President Vladimir Putin and Russia's children's commissioner, accusing them of war crimes for abducting children from Ukraine.
Russia has denied any wrongdoing, contending the children were moved for their safety.
Speaking to reporters at the Foreign Press Association in Rome, Mr Shmyhal said that in his talks at the Vatican he also discussed Ukrainian President Volodymyr Zelensky's multi-point proposal for peace "and the steps the Vatican could take" in helping that plan become reality.
He gave no specifics.
Mr Shmyhal also declined to venture what might next develop in Ukrainian-Chinese relations.
Mr Zelensky said on Wednesday he and Chinese leader Xi Jinping had a "long and meaningful" phone call.
During their conversation, the first known contact between the two presidents since the war began in February 2022, Mr Xi said Beijing will send an envoy to Ukraine to discuss a possible "political settlement" to the conflict.
The envoy is a former Chinese ambassador to Russia.
The hour-long call came two months after Beijing, which has long been aligned with Russia, said it wanted to act as a mediator and a month after Mr Xi visited Moscow.
Mr Shmyhal described the phone call as "very productive" and said it marked "a new stage in Ukrainian-Chinese relations".
"I'm convinced it is a good beginning for our relations in the future," he said.