People squeezed by inflation and demanding economic justice have taken to the streets across Asia and Europe to mark May Day, in an outpouring of worker discontent from Tokyo to Pakistan to France not seen since before the worldwide Covid-19 lockdowns.
French police charged at radical protesters and troublemakers smashing bank and shop windows and setting fires as unions pushed the president to scrap a higher retirement age.
South Koreans pleaded for higher wages, Spanish lawyers demanded the right to take days off and migrant domestic workers in Lebanon marched in a country plunged into economic crisis.
While May Day is marked around the world as a celebration of labour rights, this year's rallies tapped into broader frustrations.
Celebrations were forced indoors in Pakistan, tinged with political tensions as in Turkey, as both countries face high-stakes elections.
Russia's war in Ukraine overshadowed scaled-back events in Moscow, where Communist-led May Day celebrations were once massive affairs.
Across Asia and Europe, this year's May Day events unleashed pent-up frustration after three years of Covid-19 restrictions.
This year's events had bigger turnouts than in previous years in Asian cities, as activists in many countries argued governments should do more to improve workers' lives.
Across France, some 800,000 people marched, interior minister Gerald Darmanin said.
They mobilised against President Emmanuel Macron's recent move to raise the retirement age from 62 to 64.
Organisers see pension reform as a threat to hard-fought worker rights, while Mr Macron argues it is economically necessary as the population ages.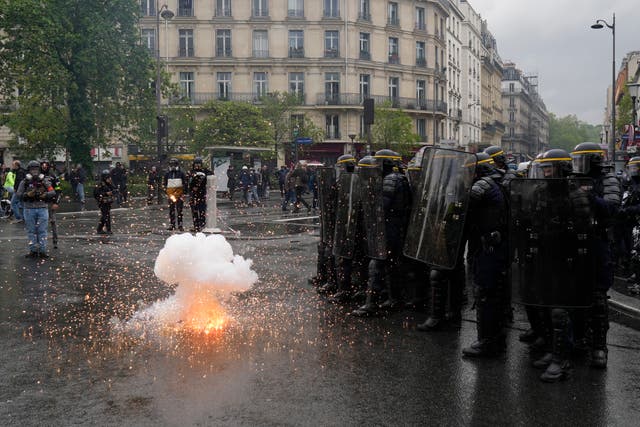 French police deployed drones to film unrest.
A Paris police officer was seriously injured by a Molotov cocktail, and 19 others were admitted to hospital, among 108 officers injured around France, Mr Darmanin said.
It was not known how many protesters were potentially injured.
Clashes also marked protests in Lyon and Nantes.
"Violence is increasingly strong in a society that is radicalising," the interior minister said on BFM-TV news station, blaming the ultra-left.
He said some 2,000 radicals were at the Paris march.
Tear gas hung over the end point of the Paris march, Place de la Nation, where a huge black cloud rose high above the trees after radicals set two fuel cans alight outside a building renovation site, police said.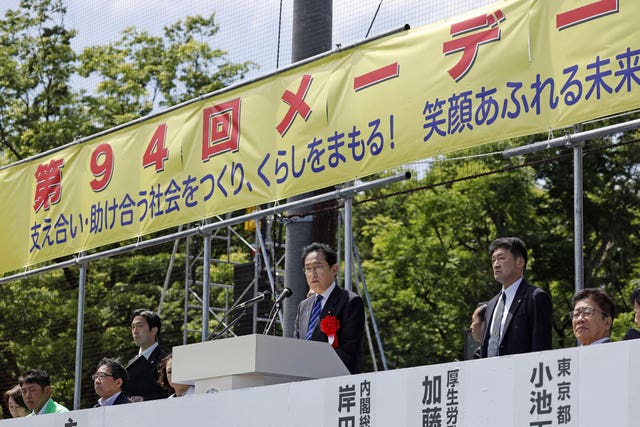 French union members were joined by groups fighting for economic justice, or just expressing anger at what is seen as Mr Macron's out-of-touch, pro-business leadership.
Labour activists from abroad were present, among them Hyrwon Chong of the South Korean Metal Workers' Union.
"Today we see rising inequality throughout the world, terrible inflation," she said, adding that Mr Macron's government was trying "to tear down a pillar of the social system which is the pension system".
Kevin Courtney, joint general secretary of the UK's National Education Union, praised French unions as "an inspiration to working people across Europe".
Like them, "you don't back down".
In Northern Macedonia's capital Skopje, thousands of trade union members protested over a recent decision by the government to give ministers a 78% raise.
The minimum monthly wage in one of Europe's poorest countries is 320 euros (£280), while the hike will put ministers' wages at around 2,300 euros (£2,000).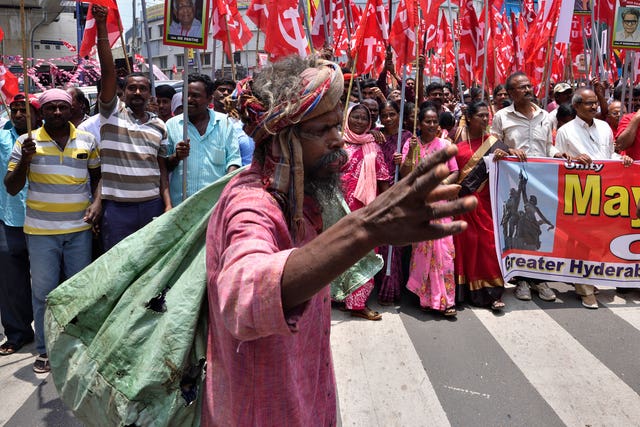 In Turkey, police prevented demonstrators from reaching Istanbul's main square, Taksim, and detained around a dozen of them, independent television station Sozcu reported.
Journalists trying to film demonstrators were pushed back or detained.
The square has symbolic importance for Turkey's trade unions after unknown gunmen opened fire on a May Day celebration at Taksim in 1977, causing a stampede that killed dozens.
President Recep Tayyip Erdogan's government has declared Taksim off-limits to demonstrations, though small groups were allowed to enter to lay wreaths at a monument.
In Pakistan, authorities banned rallies in some cities because of a tense security and political atmosphere.
In Peshawar, in the country's restive north-west, labour organisations and trade unions held indoor events to demand better workers' rights amid high inflation.
Sri Lanka's opposition political parties and trade unions held workers' day rallies protesting over austerity measures and economic reforms linked to a bailout agreement with the International Monetary Fund.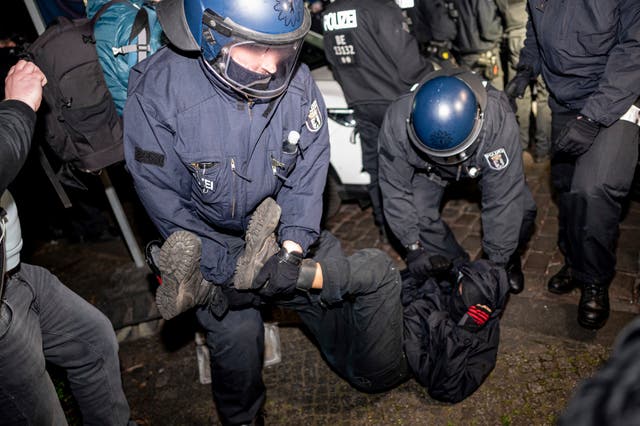 Sri Lanka is facing its worst economic crisis in history and has suspended foreign debt repayments.
More than 70 marches were held across Spain, and powerful unions warned of "social conflict" if low salaries compared with the EU average do not rise in line with inflation.
The Illustrious College of Lawyers of Madrid urged reforms of historic laws that require them to be on call 365 days of the year, regardless of the death of family members or medical emergencies.
In recent years, lawyers have tweeted images of themselves working from hospital beds on IV drips to illustrate their plight.
In South Korea, tens of thousands of people attended various rallies in its biggest May Day gatherings since the pandemic began in early 2020.
"The price of everything has increased except for our wages. Increase our minimum wages," an activist at a Seoul rally shouted at the podium. "Reduce our working hours."
In Tokyo, thousands of labour union members, opposition legislators and academics demanded wage increases to offset the impact of rising costs as they recover from damage from the pandemic.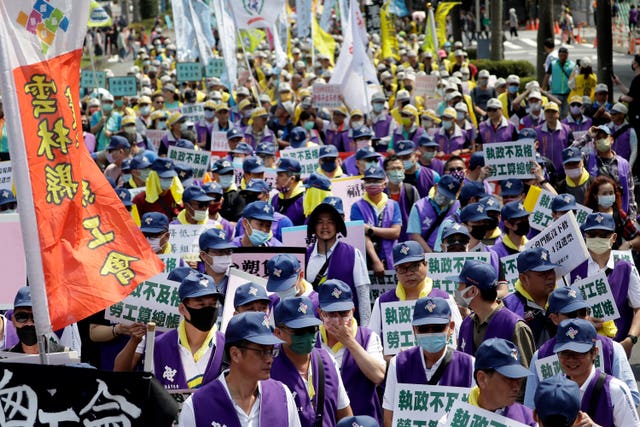 In Indonesia, demonstrators demanded the government repeal a job creation law they argue would only benefit business.
In Taiwan, thousands of workers protested over what they call the inadequacies of the self-ruled island's labour policies, putting pressure on the ruling party before the 2024 presidential election.
Protests in Germany kicked off with a Take Back the Night rally on the eve of May Day to protest against violence directed at women and LGBTQ+ people.
On Monday, thousands more turned out in marches organised by Germany labour unions in Berlin, Cologne and other cities, with union leaders rejecting recent calls by conservative politicians for restrictions on the right to strike.
Italy's far-right premier, Giorgia Meloni, made a point of working on Monday – as her Cabinet passed measures on Labour Day that it contends demonstrates concern for workers.
But opposition legislators and union leaders said the measures do nothing to increase salaries or combat the widespread practice of hiring workers on temporary contracts.
Many young people say they cannot contemplate starting families or even move out of parents' homes because they only get temporary contracts.
Elsewhere, some communities held May Day festivals that harked back to pagan ceremonies celebrating spring.
In war-ravaged Ukraine, May Day is associated with Soviet-era celebrations when the country was ruled from Moscow – an era that many want forgotten.
"It is good that we don't celebrate this holiday like it was done during the Bolshevik times. It was something truly awful," said Anatolii Borsiuk, a 77-year-old in Kyiv.
Alla Liapkina described the flowers and balloons of Soviet May Day gatherings, but said it is time to move on.
"We live in a new era, and we need to develop in this direction," she said. "We don't need to go back to such a past."