Russia launched its second large salvo of missiles at Ukraine in recent days early on Monday, damaging buildings, killing two people and wounding 40 in the eastern city of Pavlohrad but failing to hit Kyiv, officials said.
Air raid sirens began blaring across the capital at about 3.45am, followed by the sounds of explosions as missiles were intercepted by Ukrainian defence systems.
Eighteen cruise missiles were fired in total from the Murmansk region and the Caspian region, and 15 of them were intercepted, said Ukrainian armed forces commander-in-chief Valerii Zaluzhnyi.
The head of Kyiv's city administration, Serhii Popko, said all missiles fired at the city were shot down, as well as some drones. He did not provide further details, but said more information would be available later.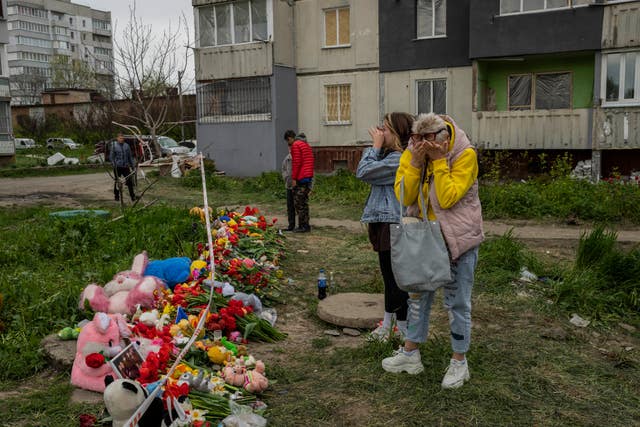 In that attack, Russian missiles hit an apartment building in Uman, about 135 miles (215km) south of Kyiv, killing 21 people including three children.
In Monday's attack, missiles hit Pavlohrad, in the eastern Dnipropetrovsk region, killing two people and wounding 40, Ukrainian President Volodymyr Zelensky said.
Seven missiles were shot at the city and "some were intercepted" but others struck an industrial facility, sparking a fire, authorities said. Damage was reported to 24 apartment buildings, 89 homes, six schools and five shops, according to regional authorities.
Missiles also hit three other areas in the region, damaging residential buildings and a school, he said.
Russian Defence Ministry spokesman Igor Konashenkov said on Monday that Russia conducted "a group missile strike with long-range precision-guided airborne and seaborne weapons on facilities of Ukraine's defence industry… all designated facilities were struck".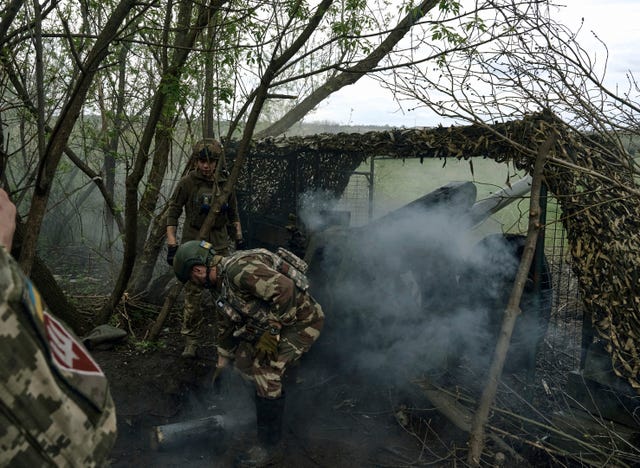 He said that nearly 20,000 people in the city of Kherson and the wider region had been left without power, along with an unspecified number of people in the Dnipropetrovsk region, including the city of Dnipro.
Moscow has frequently launched long-range missile attacks during the 14-month war, often indiscriminately hitting civilian areas.
Ukraine has recently taken delivery of American-made Patriot missiles, providing improved anti-missile defences, but it was not clear whether any of them were employed in trying to stop Monday morning's attack.
Ukraine has also been building up its mechanised brigades with armour supplied by its Western allies, who have also been training Ukrainian troops and sending ammunition, as Kyiv prepares for an expected counter-offensive this spring.
On Saturday, two Ukrainian drones hit a Russian oil depot in Crimea in the latest attack on the annexed peninsula.
Mr Zelensky said in an interview last week that his country will seek to reclaim the peninsula annexed by Russia in 2014 in the forthcoming counter-offensive.
In what has become a grinding war of attrition, the fiercest battles have been in the eastern Donetsk region, where Russia is struggling to encircle the city of Bakhmut in the face of dogged Ukrainian defence.
Troops from Russia's Wagner mercenary group and other forces are fighting Ukrainian troops house-to-house to try to gain control of what has become known as the "road of life" – the last remaining road west still in Ukrainian hands, which makes it critical for supplies and fresh troops.
Colonel General Oleksandr Syrskyi, the head of Ukrainian ground forces, said that Russia continued to exert "maximum effort" to take the city but that it so far had failed.
"In some parts of the city, the enemy was counterattacked by our units and left some positions," he said.
In Russia's Bryansk region, which borders northern Ukraine, a freight train was derailed by an explosive device, regional governor Alexander Bogomaz said.
There were no immediate indications of who set off the explosive, but Bryansk has suffered sporadic cross-border shelling during the war and in March two people were reported killed in what Bryansk officials said was an incursion by Ukrainian saboteurs.