Pakistan's former prime minister Imran Khan has been arrested and dragged from court as he appeared to face charges in multiple corruption cases, sparking violent demonstrations by his supporters in almost all of the country's major cities.
At least one person was reported killed in clashes between protesters and the military in Quetta, the capital of Baluchistan province, with another five people wounded, while about 15 injuries were reported amid similar violence in Karachi, Peshawar, Rawalpindi and Lahore.
Police fired tear gas to disperse demonstrations.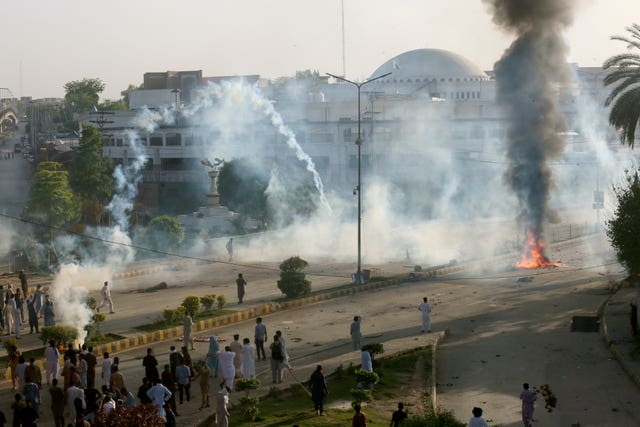 Classes at some private schools were cancelled for Wednesday.
Khan was ousted in a no-confidence vote in April 2022 but remains the leading opposition figure.
He was removed from Islamabad High Court by security agents from the National Accountability Bureau, said Fawad Chaudhry, a senior official with his Pakistan Tehreek-e-Insaf party, and then shoved into an armoured car and driven away.
A scuffle broke out between Khan supporters and police outside the court. Some of Khan's lawyers and supporters were injured in the melee, as were several police, Mr Chaudhry said.
Khan's party complained to the court, which requested a police report explaining the charges for the arrest.
Khan was taken to the garrison city of Rawalpindi, near Islamabad, for questioning at the offices of the National Accountability Bureau, according to police and government officials.
He had arrived at Islamabad High Court from nearby Lahore, where he lives, to face charges in the corruption cases.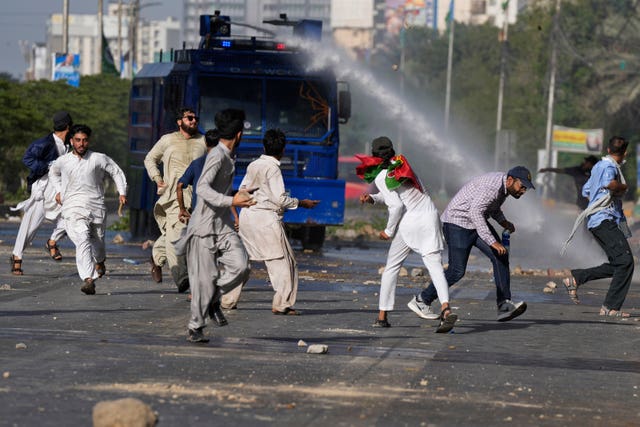 Tuesday's arrest was based on a new warrant from the National Accountability Bureau obtained last week in a separate case for which Khan had not been granted bail, making him vulnerable to be seized, and his lawyers have challenged the legality of the arrest. He is scheduled to appear at an anti-corruption tribunal on Wednesday, officials said.
"Imran Khan has been arrested because he was being sought in a graft case," interior minister Rana Sanaullah Khan told a news conference.
He alleged Pakistan's treasury had lost millions of dollars while Khan was in office due to illegal purchases of lands from a business tycoon.
At a news conference, law minister Azam Tarar said Khan was arrested because he was not cooperating with the investigations. He also denounced the violence by Khan supporters, saying protests must remain peaceful.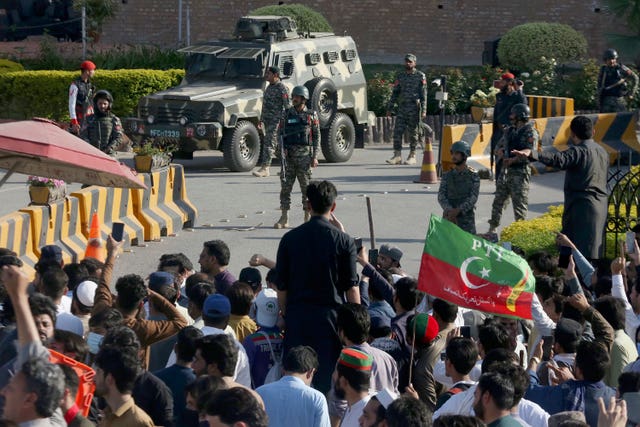 Authorities said they have banned rallies in the eastern province of Punjab.
As the news of the arrest spread, about 4,000 Khan supporters stormed the official residence of the top regional commander in Lahore, smashing windows and doors, damaging furniture and staging a sit-in as troops retreated to avoid violence. The protesters also burned police vehicles and blocked key roads.
Protesters also smashed the main gate of the army's headquarters in the garrison city of Rawalpindi, where troops exercised restraint. Hundreds of demonstrators shouted pro-Khan slogans as they moved towards the sprawling building.
In Karachi, police swung batons and fired tear gas to disperse hundreds of Khan supporters who had gathered on a key road.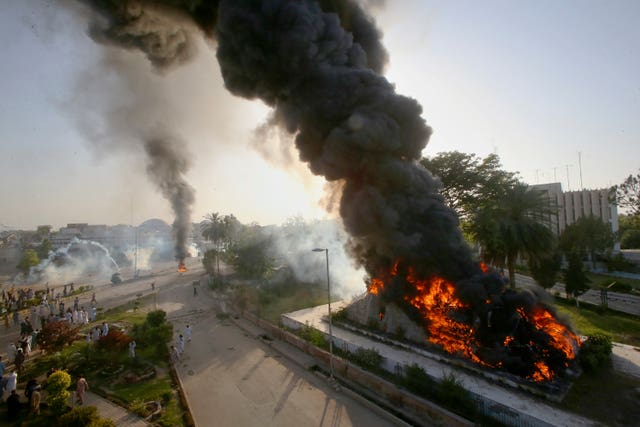 Khan's arrest came hours after he issued a video message before heading to Islamabad, saying he was "mentally prepared" for arrest.
Khan was wounded by a gunman at a rally in November in an attack that killed one of his supporters and wounded 13.
He has insisted, without offering any evidence, that there is a plot to assassinate him, alleging that Pakistan's spy agency was behind the conspiracy.
The gunman was immediately arrested and police later released a video of him in custody, allegedly saying he had acted alone.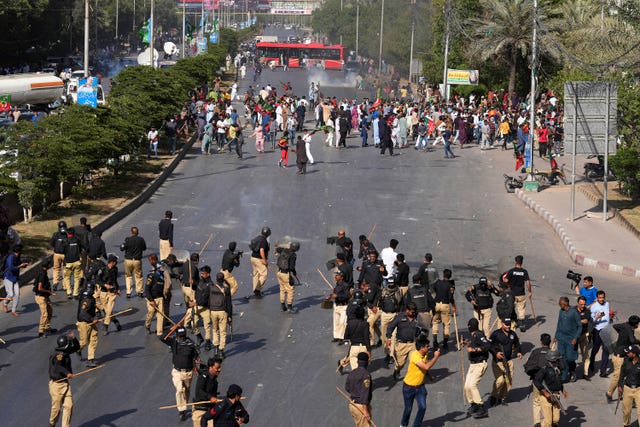 The military has directly ruled Pakistan for more than half of the 75 years since the country gained independence from British colonial rule, and wields considerable power over civilian governments.
Mr Sharif, whose government faces spiralling economic woes, condemned Khan for criticising the military.
"Let this be abundantly clear that you, as former prime minister, currently on trial for corruption, are claiming legitimacy to overturn the legal and political system," Mr Sharif tweeted after Khan's arrest.
In Washington, US secretary of state Antony Blinken and UK Foreign Secretary James Cleverly told a news conference they were aware of reports about Khan's arrest but declined any substantive comment. "We just want to make sure that whatever happens in Pakistan is consistent with the rule of law, with the constitution," Mr Blinken said.
Mr Cleverly said: "The UK has a longstanding and close relationship with Pakistan. We are Commonwealth partners. We want to see peaceful democracy in that country. We want to see the rule of law adhered to. I'm uncomfortable to speculate further without having a detailed briefing on that."