Former Pakistani prime minister Imran Khan can be held for questioning for eight days, a court has ruled, a day after the country's popular opposition leader was dragged from a courtroom and arrested.
His detention set off clashes between his supporters and police on Tuesday, leaving at least four people dead. On Wednesday, angry protesters stormed and set fire to a building housing Radio Pakistan in the city of Peshawar.
Pakistan's government has called out the military in provinces hit by violence following Mr Khan's arrest.
The 70-year-old politician, who lost power last year but remains the country's most popular opposition figure, is the seventh former prime minister to be arrested in Pakistan.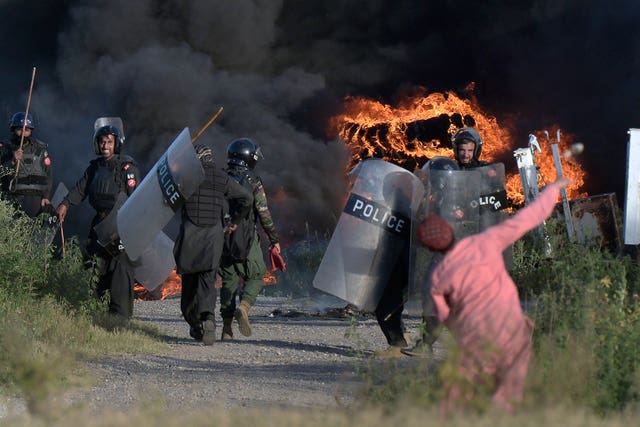 In eastern Punjab province, where authorities said 157 police officers were injured in clashes with Mr Khan's supporters, the local government asked the army to step in and restore order.
Pakistan's GEO television broadcast footage showing Mr Khan appearing before a judge at a temporary court inside a police compound on Wednesday. The former premier was seen seated in a chair, holding documents.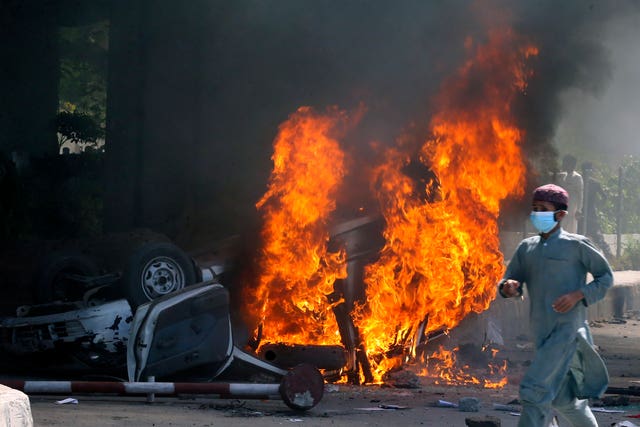 Meanwhile, Mr Khan's legal team were challenging his arrest before the Islamabad High Court, seeking his release.
Also in Peshawar, Mr Khan's supporters raided the building housing Radio Pakistan, damaging equipment and setting fire to it, police official Naeem Khan said. Some of the employees were trapped inside and police were trying to restore order, he added.
Mr Khan's Pakistan Tehreek-e-Insaf party had called for demonstrators to remain peaceful, hours after mobs – angered over the dramatic arrest – set fire to the residence of a top army general in the eastern city of Lahore.
As he appeared in court, dozens of agents from the National Accountability Bureau backed by paramilitary troops stormed the courtroom, breaking windows after Mr Khan's guards refused to open the door.
Mr Khan's supporters attacked the military's headquarters in the garrison city of Rawalpindi near the capital, Islamabad, but did not reach the main building housing the offices of army chief General Asim Munir.
Other demonstrators tried to reach the prime minister's residence in Lahore, but were driven off by baton-wielding police. Others attacked vehicles carrying troops and hit armed soldiers with sticks.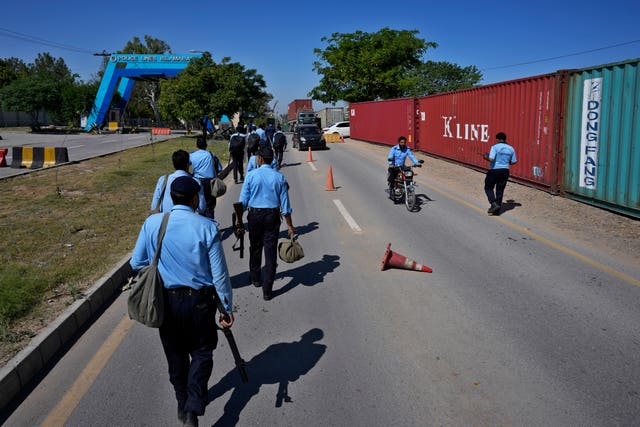 Officers deployed in force across the country, and placed shipping containers on a road leading to the sprawling police compound in Islamabad where Mr Khan was being held and where he appeared before a judge at the temporary court placed there for security reasons, according to the government.
In March, police stormed Mr Khan's Lahore residence, seeking to arrest him in a corruption case related to hiding income from the sale of official gifts.
Later on Wednesday, Mr Khan appeared in a different courtroom at the high security court and was indicted in the ongoing graft case, pleading not guilty, local media said.