Russian President Vladimir Putin and Ukrainian President Volodymyr Zelensky have agreed to separate meetings with a delegation of leaders from six African countries to discuss a possible plan to end the war in Ukraine, South Africa's president said.
Cyril Ramaphosa said he had spoken with Mr Putin and Mr Zelensky by phone over the weekend and they each agreed to host "an African leaders peace mission" in Moscow and Kyiv respectively.
"Principal to our discussions are efforts to find a peaceful resolution to the devastating conflict in the Ukraine," Mr Ramaphosa said.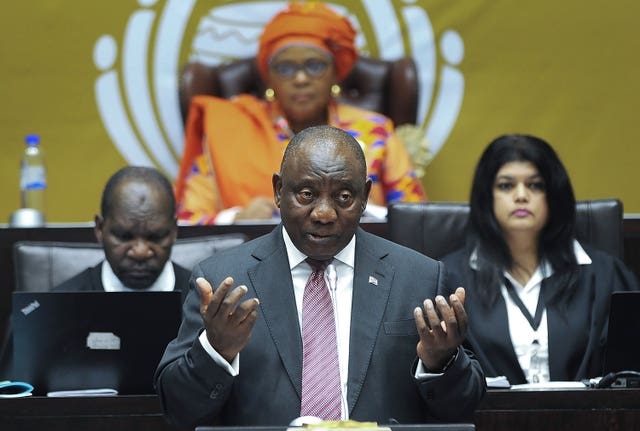 Four of the African countries — South Africa, Republic of the Congo, Senegal and Uganda — abstained from a UN vote last year on condemning Russia's invasion. Zambia and Egypt voted in favour of the motion.
Mr Ramaphosa did not give a timeframe or outline any parameters for the possible peace talks. Mr Zelensky has previously said he would not consider a peace deal to end the 15-month war until Russian forces withdraw from Ukrainian territory.
UN secretary-general Antonio Guterres was also briefed on the African delegation's planned meetings and "welcomed the initiative", Mr Ramaphosa said.
There was no immediate reaction on Tuesday from either the Kremlin or Kyiv. A readout from a phone conversation between Mr Putin and Mr Ramaphosa on Friday said the Russian leader supported "Cyril Ramaphosa's idea about a group of African leaders participating in the discussion of the prospects of resolving the Ukrainian conflict".
South Africa's leading position in the African delegation is bound to draw scrutiny. Mr Ramaphosa's announcement came days after the US ambassador accused South Africa of siding with Russia in the war in Ukraine and even providing weapons to help Moscow.
The South African government has denied it sent any weapons to Russia. Mr Ramaphosa has said the matter is under investigation.
South Africa has claimed its position on the war is neutral. The country has strong historical ties with Russia due to the former Soviet Union's support of the ruling African National Congress party when it was a liberation movement fighting to end the racist apartheid regime.
South Africa also hosted Russian and Chinese warships for joint naval exercises off its coast in February, which coincided with the one-year anniversary of Russia's invasion of Ukraine. South Africa's top army general travelled to Moscow and met the commander of the Russian ground forces on Monday.
South Africa maintains it also retains a strong relationship with the US and other western supporters of Ukraine. Mr Ramaphosa met US President Joe Biden at the White House late last year.
Zambia also has historical ties with Russia. Uganda is a US ally on regional security in east Africa, but Ugandan President Yoweri Museveni has spoken of his country's friendship with Russia and its neutral position in the war in Ukraine.
China has been the only other country so far offering to mediate possible peace talks, an offer clouded by its show of political support for Moscow.
Beijing released a proposed peace plan in February, and a Chinese envoy is preparing to visit Russia and Ukraine.
But there appeared to be little chance of an imminent breakthrough to end the war since Ukraine and its Western allies largely dismissed the Beijing's proposal.