Around 1,300 UK jobs are being axed by Ford as part of a wider cull of roles across its European business as the car giant looks to reinvent the brand and focus on a smaller range of electric vehicles.
The job cuts will see Ford lose around a fifth of its 6,500-strong UK workforce and come amid wider plans to scrap around 3,800 jobs in the next three years across Europe.
A smaller operation in Stratford in east London, where about 200 staff work, will also be hit.
Manufacturing and logistics plants at Halewood in Merseyside, Dagenham in Essex, Southampton in Hampshire, and Daventry in Northamptonshire will be unaffected by the shake-up, Ford said.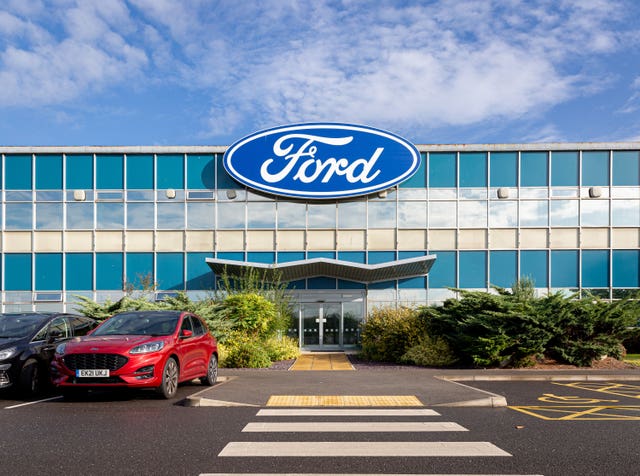 The job losses will create a "leaner, more competitive cost structure" for the business and help with the transition towards a smaller, more focused and increasingly electric product portfolio, the company said.
It includes efforts to restructure its engineering arm, which will result in 2,800 fewer jobs across the division by 2025.
This cull will leave it with a much smaller engineering team totalling around 3,400 staff across the region, it said.
Furthermore, around 1,000 jobs in its administrative, marketing, sales and distribution teams across Europe are set to go.
In the UK, around 1,000 of the job cuts will affect the company's engineering team and 300 in administrative operations.
"We recognise the uncertainty it creates for our team, and I assure them we will be offering them our full support in the months ahead.
"We will engage in consultations with our social partners so we can move forward together on building a thriving future for our business in Europe."
Ford stressed that the European car market is highly competitive and there are growing fields of electric car rivals entering the market.
It gave assurances that the plans will "revitalise" the business as it is set to introduce its first European-built electric passenger vehicle in the spring.
Mr Sander said: "We are completely reinventing the Ford brand in Europe – unapologetically American, outstanding design and connected services that will differentiate Ford and delight our customers in Europe."
"We are ready to compete and win in Europe," he added.
The Unite union's national officer for automotive, Des Quinn, said: "Ford's announcement is another stark reminder that the shift to electrification needs a just transition that requires long-term investment and planning from automakers and a proper industrial strategy from government.
"That includes making sure electric vehicle batteries are built in the UK, along with a UK-based supply chain in electronic power drive systems and ensuring the domestic development and manufacture of autonomous driving systems."