Conor McGregor accused Floyd Mayweather of having a "big-time gambling problem" as the two faced off ahead of Saturday's fight in Las Vegas.
Mayweather's openness regarding gambling is central to his "Money Mayweather" persona but there remain those within boxing who believe it may lead to an eventual comeback, despite his personal wealth reportedly standing at £266 million last year.
The 40-year-old has also repeatedly insisted this will be his last fight and that he will retire having surpassed the record of the great Rocky Marciano and moved to 50-0.
McGregor, having been told Mayweather had said he is considering "putting the most I've ever done at the sports book" on another victory, calmly responded: "He needs to let that gambling go – he's a bit heavy on that gambling.
"He's always talking about doing it and then not doing it. I don't really care. You don't really see many winners in those types of places.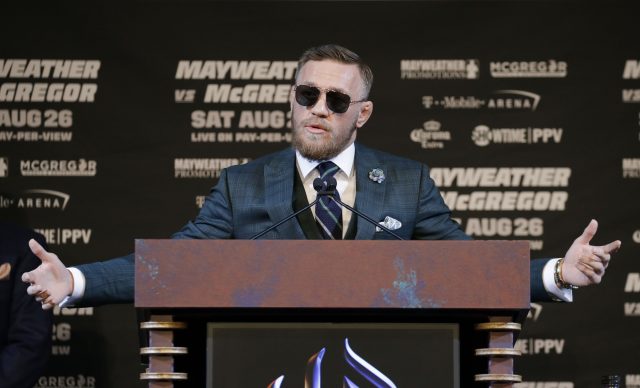 "I certainly know he has a big-time gambling problem, from seeing him. He gambles on half-times and things like that. He shows what his wins are, never shows what the losses are.
"Maybe that's why he's in the position he's in and he had to take this fight. I'm focused on the fight, not gambling."
One of Mayweather's minders then dared the 29-year-old to bet his purse – which at a reported minimum of £59 million will be the biggest of his career – and he said: "That's no problem, we can bet the purse."
Mayweather then waved off the prospect of him also doing so, and similarly intervened when the same individual attempted to goad his Irish opponent, before repeating his insistence that he will win via knockout for the first time in six years.
The American has rarely remained aggressive in his fights, 26 of which he has won inside the distance, but he last won via stoppage against Victor Ortiz in 2011, and this also represents a significantly less competitive match-up.
"I've said it's not going the distance and you can mark my words," he said. "I know he's going to come out and switch and go back and forth with stances. It's my job to execute my game plan and adjust if I have to.
"This is great for the city of Las Vegas. It's all about giving back and I'm giving back to my home of Las Vegas. This city has welcomed me with open arms from day one. We're doing great numbers. It's the biggest fight in history. It's not just a fight, it's an event. It's all about breaking my own records."