Manchester United were famous for scoring in "Fergie Time" but Arsenal have averaged more late goals per season in the Premier League than the Red Devils.
Press Association Sport has found that United, who had a reputation for netting last-gasp winners under former boss Sir Alex Ferguson, had scored fewer goals from the 90th minute onwards per season than the Gunners – 3.69 compared to Arsenal's 4.39 – in Premier League history.
That is despite the north London side failing to score later than the 85th minute in the current campaign.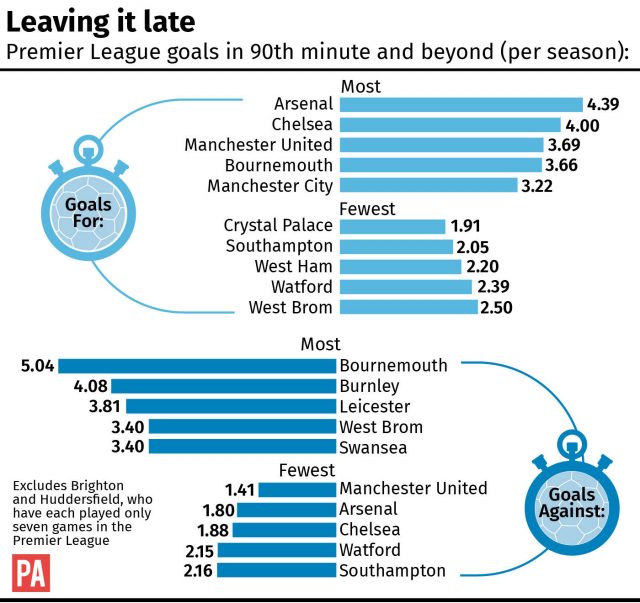 Chelsea average four goals per season in the dying stages. Bournemouth rank fourth in the table, narrowly behind United on 3.66 after just over two seasons in the elite, but they are prone to switching off early at the other end.
They have conceded an average of 5.04 late goals per season, almost a full goal more than second-placed Burnley (4.08), and means a Cherries fan who left every game early would risk missing almost nine goals per season.
Interestingly, Watford average only 2.39 late goals scored per season, even after their efforts against Swansea and West Brom in the current campaign. Prior to those two games, their average stood at 1.94 – so Richarlison alone has scored more late goals in the last two games than his team previously managed in an average season.
The calculations exclude Premier League debutants Huddersfield and Brighton, who have played only seven games apiece in the competition, but of the remaining 18 teams only Crystal Palace have failed to top two late goals per season. The Eagles' average of 1.91 leaves them well adrift of Southampton (2.05) at the foot of the table.
United (1.41), Arsenal (1.80) and Chelsea (1.88) are the only current Premier League teams who average fewer than two late goals conceded per season.