Mauricio Pochettino would not swap the progress made at Tottenham over the last three years for Arsenal's two FA Cups.
Spurs head into Saturday's north London derby as the stronger force after two successive title challenges and finishing above Arsenal last season for the first time since 1995.
Tottenham have also beaten Real Madrid to seal progress to this season's Champions League last 16 as Arsenal have been rubbing shoulders with the likes of BATE Borisov and Red Star Belgrade in the Europa League.
Spurs are yet to win a trophy since Pochettino took charge while Arsenal lifted the FA Cup both last season and in 2015, but the Spurs boss insists he would not trade places.
"No, because Tottenham is Tottenham and Arsenal are in another stage of their project," Pochettino said.
"I don't care where they are. After three-and-a-half years we achieve a lot. I would like to achieve more – to be first and not second and win cups but we are in different process of our project.
"I admire what Arsene Wenger did at Arsenal but we are at a different stage in the project.
"The pressure to win only cups is not useful for us. If we can win the FA Cup, Carabao Cup, fantastic, but the principal option is to win the Premier League and put Tottenham in a position to win the Champions League."
Spurs' hunt for silverware may not end soon. They are out of the Carabao Cup and already trail the formidable Manchester City by eight points in the Premier League.
Arsenal have cashed in on the domestic competitions in recent seasons, having lifted the FA Cup three times in the last four years. But Pochettino believes the Premier League and Champions League are the only prizes really worth winning.
"You arrive at a big club and you play a final and win, that happens at Liverpool, Arsenal, Man United, Man City, Chelsea," Pochettino said.
"They try to use the whole squad, then you arrive in the draw and you can win, but the Premier League and Champions League is the massive challenge for big clubs. This type of trophy are the real trophies."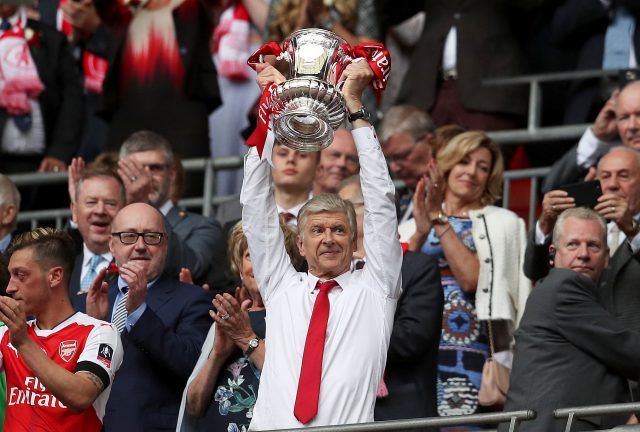 Wenger was once renowned for spotting Europe's unseen gems but now it is Pochettino, and Tottenham, heralded for bringing through the best young talent.
Pochettino said as many as eight 16-year-olds were training with the first team on Wednesday while former Spurs stars Steve Perryman, Graham Roberts and Glenn Hoddle came in to meet the club's academy players.
"I try to show respect for our legends and share ideas for the club," Pochettino said. "We want to build something special but keep identity. Who better than them to translate how Tottenham was, is and can be?"