England will have to somehow get the better of Australia's two Ashes powerhouses if they are to score an improbable consolation victory in Sydney.
Captain Steve Smith, scorer of more than 600 runs towards the hosts' unassailable 3-0 lead, and the series' leading wicket-taker Mitchell Starc are both raring to go.
Smith has suffered minor discomfort from his back in practice, but confirmed he will not be seriously troubled when the action starts again – while Starc is bowling at full pelt again, having had to sit out last week's bore draw in Melbourne with a bruised heel.
"Starcy has pulled up pretty well this morning, and says he's ready to go," said Smith, who did voice the caveat that Australia will not unnecessarily risk the left-armer's availability for the remainder of their high-profile winter.
Asked his advice for Starc, he added: "Make sure you're completely fit, and don't be doing further damage.
"We have obviously got some one-dayers after this, Twenty20s and an important (Test) series in South Africa as well.
"That was the conversation I had after the Perth Test match … 'we've wrapped up the series, which is great, and we want to continue winning … but you're a key member of our line-up, so don't do further damage – because we need you in South Africa'."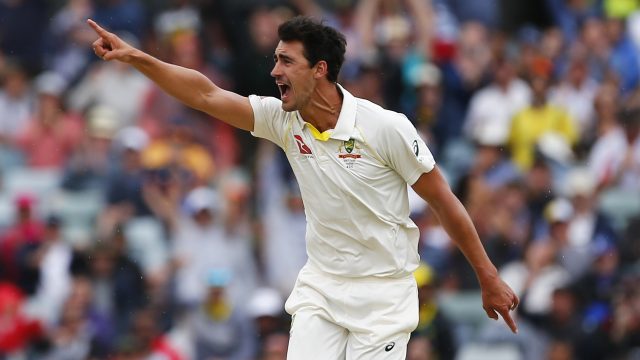 Starc insists, however, he is fit again.
"The break he's had has helped his heel heal … so he's confident," said Smith.
"You've also got to take player's word sometimes. I hope he gets through and is fine if he gets the opportunity."
Smith reports he too is ready to go again in search of what would be a fourth century of the series.
"I'm a little bit stiff, but noting I haven't dealt with before," he said.
"I'll have good hit today and catch, (and) I'll be fine tomorrow."
Australia have made a variant call to England after reading conditions here – and unlike the tourists, will stick with one specialist spinner.
Smith said: "The wicket's got a fair bit of grass … so I'd say we'll probably opt for just the one spinner.
"Nathan (Lyon)'s done a terrific job throughout this series, so I'd say we'll go down that route."
Smith, a menace to England's bowlers all series, will have an extra personal cheer squad for his home Test.
"There'll be a few friends, mum and dad, grandparents.
"It's a special occasion to captain an Ashes Australian team on my home ground, and they will all be cheering for me."
Australia's selectors sprang a controversial surprise by omitting all-rounder Glenn Maxwell from their one-day international squad to face England later this month.
Smith reiterated the remarks of national selector Trevor Hohns when he called for more consistency from Maxwell, but added too he believes a more focused attitude in practice will also help.
"It's unlucky on Glenn," he said. "Looking at the way he trains, he could train a bit smarter.
"We've seen the way he can play and do all his funky stuff and be pretty cool with that – but when he puts head down, he's a really good batsman.
"If he keeps switched on, trains well, focuses on basics more than expansive things, it will help him have consistency.
"If he's doing that, you want him in the team."