Chelsea head coach Antonio Conte hit back at Jose Mourinho on Friday by suggesting the Manchester United boss has senile dementia.
Mourinho, who has had two spells as Chelsea boss and is Conte's immediate predecessor, appeared to take a swipe at the Italian – and Liverpool boss Jurgen Klopp – for their antics in the technical area at his United press conference on Thursday when he said he did not feel the need to behave like "a clown" on the touchline.
Asked about Mourinho's comments on Friday, Conte used the Italian phrase "demenza senile" in relation to the Portuguese, which translates as senile dementia.
Conte said: "I think he has to see himself in the past – maybe he was speaking about himself in the past. Maybe, sometimes, I think that someone forgets what's said in the past, which is his behaviour.
Conte is in his second season as Chelsea head coach, like Mourinho is at United.
Mourinho was sacked by Chelsea for a second time in December 2015 and the Blues finished 10th, with Conte guiding them to the title in his first season as boss.
Conte added of the Portuguese: "There is a person that continues to look here. You understand? He went away, but he continued to look here."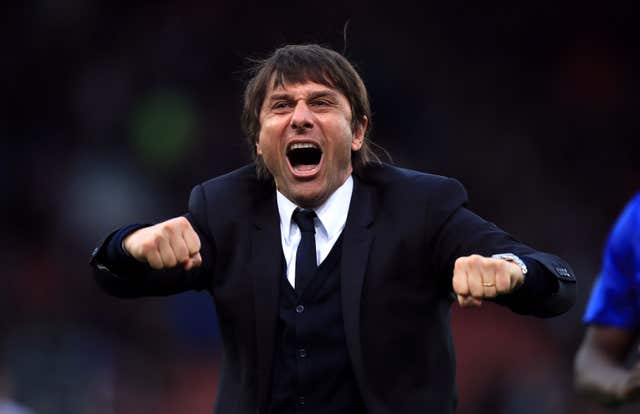 He added: "I don't like to speak about the other coach, about the other players. I think it's a form of respect."
But Conte also responded to comments from Arsenal boss Arsene Wenger on Friday.
Wenger accused Eden Hazard of diving to earn a penalty in Wednesday's 2-2 Premier League draw, but Conte reckons other decisions went the Gunners' way and referred to previous meetings, too.
Conte said: "I think if Arsene Wenger watched the game again, (he would) understand he was very lucky during the game with the referee's decisions.
"Don't forget, in the last few games (with Arsenal) we finished the game with 10 men, when they won the FA Cup, the Community Shield. I think the referee's decision were a bit strange.
"If I want I can talk about refereeing decisions for one month. But I don't want to do this. I think we must have respect for referees' decisions.
"I think Wenger has to accept the decisions. He's an old coach, he has a lot of experience, he won a lot. He has to continue to do what he did in the past."