Mauricio Pochettino feels the pressure of sending Tottenham to their new stadium as a Champions League team but insists the club's long-term plan is more important than winning a trophy.
Spurs face Arsenal at Wembley on Saturday, knowing victory would deliver a major boost to their own chances of finishing in the Premier League top four and deal a hammer blow to the hopes of their north London rivals.
Arsenal trail Tottenham by four points in the table, with the prospect of manager Pochettino's side ending a second consecutive season above the Gunners now within sight.
League position, however, counts for only so much. Spurs are yet to win any silverware during Pochettino's tenure, while a turbulent few years for Arsenal has still included them lifting the FA Cup three times in four seasons.
Pochettino, whose side are due to return to an overhauled White Hart Lane next season, claims reviewing Tottenham's progress on trophies alone is to miss the wider point.
"When we arrived we realised how difficult it was and what would be the process of moving from one stadium to another. We knew it was a difficult moment in terms of the whole process of the club but we went through it," Pochettino said.
"I feel the responsibility to manage a club and a company, that you need results to be sure that all the income will be at a level to start a process to build a new stadium, to attract players, to play Champions League.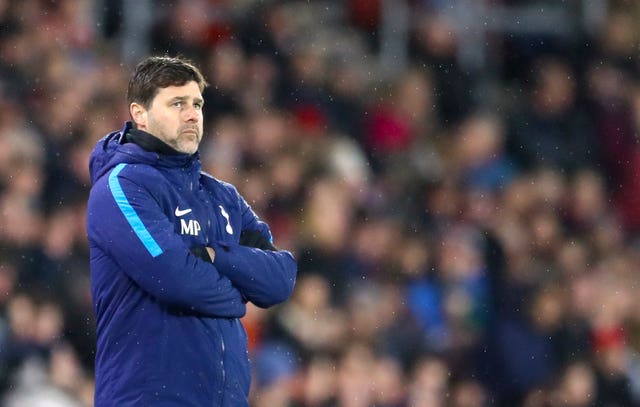 "Another thing that is important, when you compete against massive sides like City, United, Arsenal, Chelsea, Liverpool and the broadcasters give them massive money – that massive money, for them, goes to investing in new players.
"For us it means to build the project so that one day we have the capacity to do the same or change the philosophy."
Harry Kane will be key to that vision as the striker looks to improve on his excellent record against Arsenal, which includes six goals in seven meetings.
Kane was released by Arsenal when he was eight years old and he told The Players' Tribune this week that rejection gave him a "drive that wasn't there before".
"We got emotional, reading it," Pochettino said.
"It's normal, he has grown in the last three years and a half, and we know how tough it was for him to achieve all that he is achieving now, and how difficult it was, how important the family was for him and the good advice from his dad, family, brother and everything.
"I think he is a good example for everyone. It is difficult to find another striker who has improved like he has improved."