Elise Christie screamed from the stands as her boyfriend Shaolin Liu narrowly missed out on his first Winter Olympic medal by finishing fifth in the men's 1500m short-track final on Saturday.
But now the 27-year-old Scot is determined to earn bragging rights by beating her partner to the Olympic podium when she returns to the ice on Tuesday in the women's 500m.
Hungarian Liu, whom Christie has been dating for three years, won World Championship gold in Seoul in 2016, one year before Christie broke her own global duck with a trio of golds in Rotterdam.
Liu told Press Association Sport: "At the start of the 2016 season Elise said we were both going to be world champions together, so when I won mine she was a bit pissed and said, 'you didn't wait for me'.
"So she said before these Olympics that if I am going to win a medal before her she's going to kick my ass. Maybe that's why I felt so nervous."
Christie blazed through her opening 500m heat in what was briefly an Olympic record time on Saturday, moments before Liu started his own quest for a medal at the Gangneung Ice Arena.
Liu was advanced to an unprecedented nine-man final after a semi-final fall, but could not trouble the medal placings in a race in which Hyojun Lim claimed the hosts' first gold of the Games amid scenes of wild celebrations.
Liu and his younger brother Shaoang, who is is also competing in Pyeongchang and was eliminated in the 1500m semi-finals, were born in Budapest to a Chinese father and Hungarian mother.
Having taken up short-track at an early age, their respective careers took off when their father used his connections with his homeland to secure them a year's training place with the respected Chinese squad.
The 22-year-old added of his relationship with Christie: "I think it's a pretty good thing to be in the same sport and to be able to give advice to each other.
"We're trying to help each other out and everything. She comes over to see me in the Olympic Village when she can, so we can spend time together. We're professional enough to do these things.
"It is pretty hard to watch Elise race. I was in the stands shouting. I knew she couldn't hear anything but I couldn't stop myself. She's giving me a lot of power when she's doing well, so I'll keep cheering for her."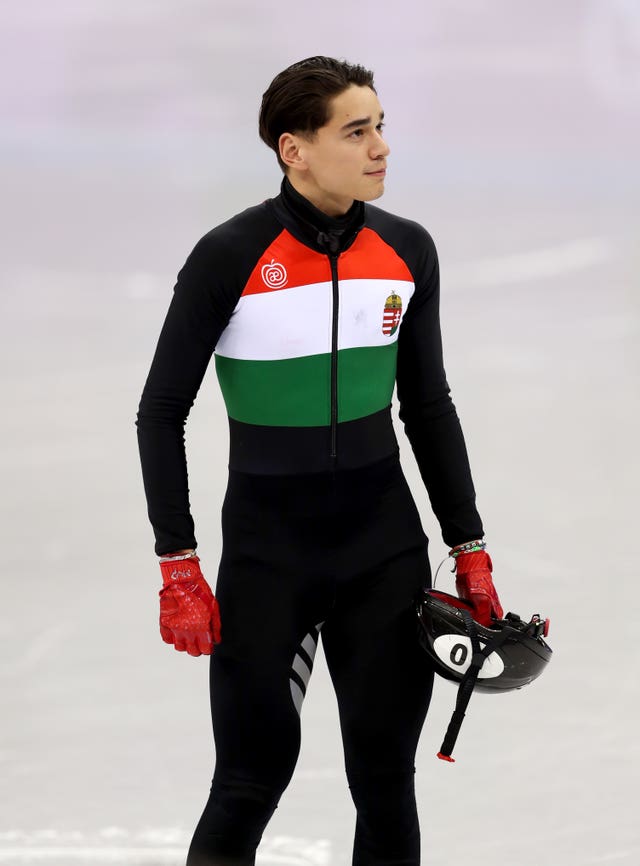 Christie has avoided her main rivals in the draw for the quarter-finals, where she will face Canada's Kim Boutin, Germany's Anna Seidel and Liu's compatriot Andrea Keszler with the first two through to the semi-finals.
China's Fan Kexin goes in the third quarter-final while South Korea's Minjeong Choi, who set a new Olympic record mark on Saturday just eight minutes after Christie, is favourite to advance from heat four.