The stars of the Leeds Rhinos are more used to the Woolpack of Emmerdale than the Waterhole of Erinsborough, but that hasn't stopped them treading the boards of Ramsay Street.
The Rhinos are in Australia for their World Cup Challenge appointment with the Melbourne Storm on Saturday and, during some down time, three of their Grand Final winners managed to bag themselves some extras work on the popular soap Neighbours.
Captain Kallum Watkins, winger Ryan Hall and forward Stevie Ward headed to the studios to see how the long-running show is put together and ended up starring in a scene themselves, with Ward getting a speaking part.
"We got some acting done, we got some extras work done and even got a few lines, it was brilliant. We loved it and we appreciate them inviting us on and Leeds Rhinos being involved in Neighbours for the first ever time."
The show will air later this year, but it is Ward who fans will see speaking, with Hall claiming he stole the line from him.
"There was a bit of debate and uproar about who got the line. I shot-gunned it but Stevie was crying that he didn't get it. I felt sorry for him."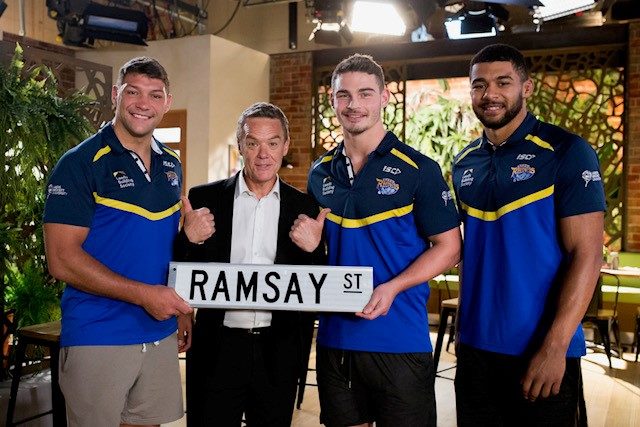 Whether he'll be welcome back at the Woolpack in his native Yorkshire now remains to be seen.