Hawk-Eye insists a technical error was responsible for the fact the lines shown during the latest high-profile Video Assistant Referee controversy were not straight.
The company also remains adamant that the match officials were given straight lines to make their decisions with, and not the same ones that were anything but and which were shown to those watching on television.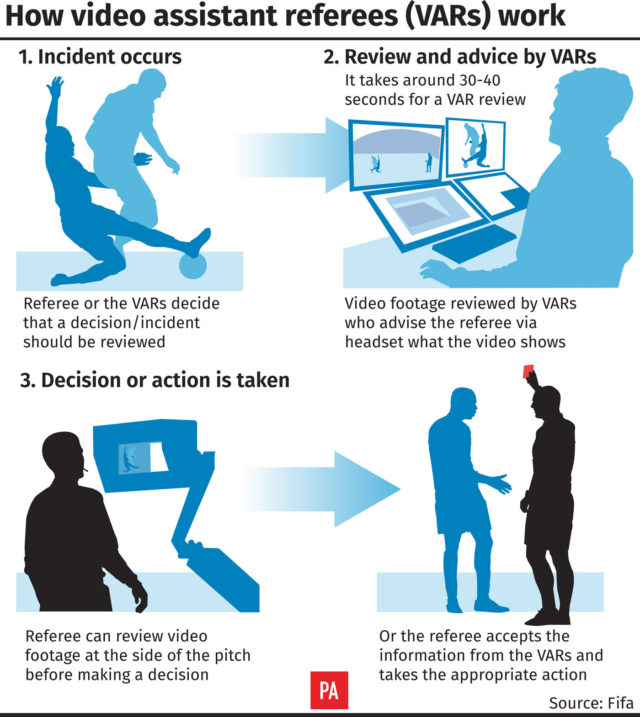 Match referee Kevin Young had awarded a goal until the VAR's lengthy intervention. There was controversy after those viewing on BT Sport were shown images of Mata's positioning amid wonky lines that created further confusion surrounding the decision.
Hawk-Eye is responsible for providing the technology used within VAR, and explained via a statement: "A technical issue led to an incorrect graphic being provided by Hawk-Eye to BT Sport last night.
"To confirm, the VAR saw the correct image with the correct lines to make the decision. This was a case of the wrong image being provided to the broadcaster and we apologise."
Despite the negative reaction to Saturday evening's fixture in their cup competition, Press Association Sport understands that the Football Association remains satisfied with VAR's contribution since its introduction in January, and recognises it would initially prove difficult to perfect.
It has long been accepted that in the case of offside, the benefit of any doubt would go to the attacking team, but even though Mata was shown to be only fractionally off and despite criticism of the decision, the FA is also satisfied that it should have been disallowed.
United manager Jose Mourinho spoke of his support for VAR, post-match, while his Huddersfield counterpart David Wagner spoke of his belief it "kills the emotion of the game".
Former Premier League referee Mark Halsey has since analysed the decision, and he regardless maintains that even though Mata was shown to be offside, the goal should have stood.
"For me that's a goal," he told Talksport. "It's so so tight and to be fair to the assistant referee you are never going to see that in real time. We're talking a slight knee cap, perhaps.
"Matthew Wilkes (the linesman) called it absolutely spot on in not raising his flag.
"If it's taking eight and a half minutes to come up with the right image to justify that decision then the goal should be given."