Elise Christie's wretched Olympics run continued as she declared: "It wasn't meant to be this time."
The 27-year-old Scot, carrying an ankle injury after crashing out of the 1500m semi-finals on Saturday, crashed again in her 1000m heat on Tuesday night before it was re-started.
And Christie, who was disqualified three times at the Sochi 2014 Games, crossed the line in second place and thought she had advanced.
But instead Christie, who was carried away from the track by head coach Nicky Gooch, was punished again by the officials, who gave her a yellow card for two indiscretions which amounted to her relegation.
Christie later vowed to continue her bid for an elusive Olympic podium place at the 2022 Winter Games.
"I think I can come back with a medal in Beijing. It wasn't meant to be this time," Christie told BBC Sport.
"I can promise Britain I'll fight back from this. I have so much belief in the programme and myself. There has been such massive support."
Christie only decided to compete earlier this afternoon after a morning training session, but now she has failed to finish her three events for a second successive Olympics.
Had it been any other event, Christie says she would have been out for six weeks.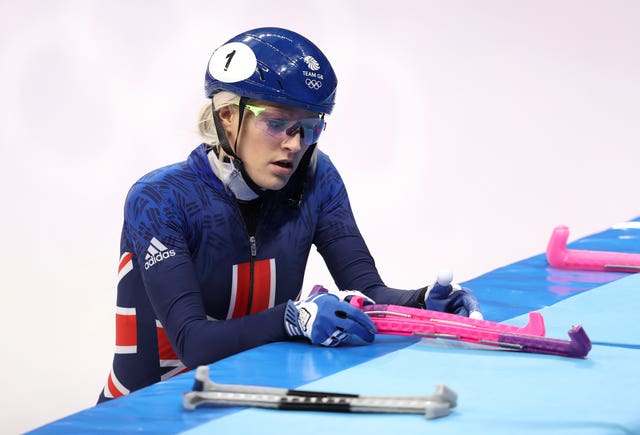 "The only reason they gave me the choice is because it's an Olympics.
"I'd have been off the ice for six weeks, I'd have been rehabbing.
"I might well have damaged it more being kicked at the start but to me that didn't matter – I've trained all my life for this.
"I thought 'I'm at the Olympics, I've trained years for this, I'm going to give it a go'. That's what I did.
"Part of me was saying 'just fight once more, give it one more try'. I deserved that and it's my best distance. It just wasn't meant to be."
Christie insisted the events of four years ago were not weighing heavily on her.
She added: "I'm in a different place to Sochi. I know this is short track. I'm world champion and world record holder. I've proved myself.
"I wanted to bring it home for Britain. It would've meant the world to me. I'm devastated that I couldn't.
"Everything I trained for, that's the way short track goes. I'm not crying, I'm just coughing."
Under short track rules, a crash on the first lap leads to a re-start, but she was clearly in pain and sought assistance from a British official before returning to the start line.
Despite a slow start, Christie soon got back into her stride and crossed the line second, before being disqualified after bumping Holland's Anna van Ruijven.
Christie said: "I crashed on the first start. Someone actually hit my ankle when that happened. I was in a lot of pain. I thought 'maybe I can't do this now'.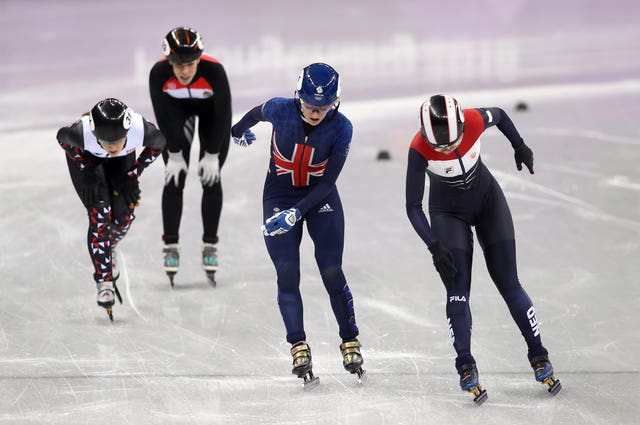 "I thought 'just do what you can do' and I thought 'I'll move up' and I moved up. I thought I made some really good moves and was quite happy that I'd managed to qualify with such a bad ankle.
"Got my first ever yellow card, which I'm not really sure why. It's not my decision, it's not in my control. I have to take whatever the referee gives me. That's that."