Katarina Johnson-Thompson has targeted Olympic glory after her global breakthrough.
The 25-year-old won pentathlon gold at the World Indoor Championships in Birmingham on Friday – her first major medal since 2015.
Johnson-Thompson was favourite with her major rivals, including Olympic and world champion Belgium's Nafi Thiam, absent.
And the newly crowned champion believes Thiam and Olympic gold are within her sights as she looks to make the step to the next level.
"It is definitely something that is one of my goals," said Johnson-Thompson, who competes at next month's Commonwealth Games in Australia.
"Every sports person wants that Olympic title and I have got two years to get myself up to that standard.
"I don't believe anyone (Thiam) is unbeatable. I feel everyone can have good and bad days and that means they are beatable.
"I'll next see her in Berlin but this next year is about me being competitive and not really thinking about, 'OK they have this score, they can do that', because anything can happen on the day.
"I have experienced that – everyone has witnessed me do good on a day or do bad on a day. It is one of those things, I just want to be competitive, not think about scores, just try and compete against who is in front of me. "
Victory – despite failing to dominate – came after a string of disappointing performances and results since she won European Indoor gold in Prague in 2015.
Johnson-Thompson came fifth at the World Championships in London in the summer after sixth place in the 2016 Olympics.
And having struggled with the expectation of succeeding Jessica Ennis-Hill she admitted her problem was mental rather than physical.
"I knew it was mental in the fact that sometimes in my training I was a lot better than I was in competition," she said.
"And still too this day it's the case. But it's sort of not giving up after one throw and knowing I can work on this and I can get better. Just believing in myself.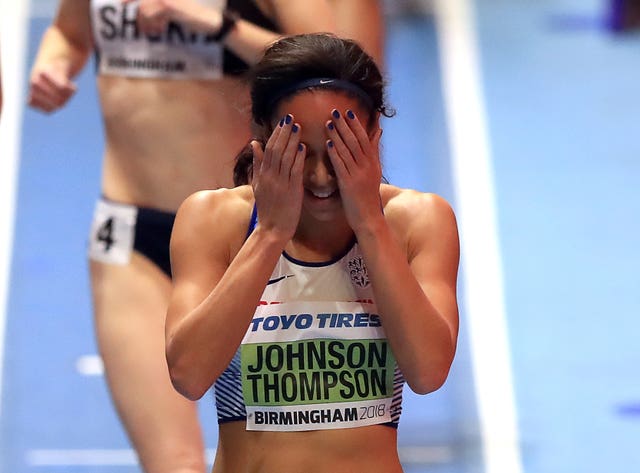 "I've moved away from home and I have a new coach and I'm happy with how everything is going. I'm just happy I was able to do it on the day."