There will be no update on the severity of Harry Kane's ankle injury until Tuesday at the earliest, Tottenham have said.
England striker Kane is due to undergo a scan after limping off during the first half of Spurs' 4-1 win at Bournemouth on Sunday.
The Premier League club are continuing to assess the problem and do not expect an update on their 35-goal player for at least another 24 hours.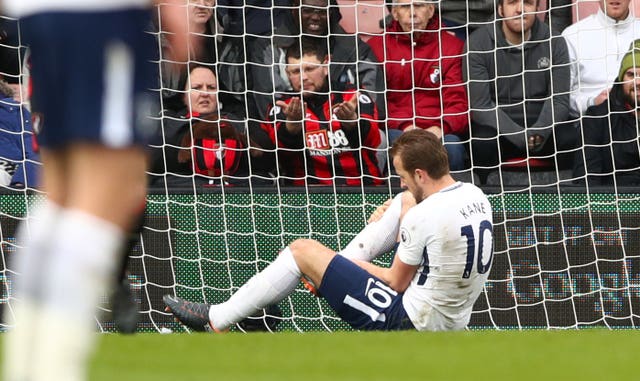 A spell on the sidelines for the 24-year-old could have serious ramifications for both club and country.
Spurs face an important FA Cup quarter-final at Swansea next weekend, while England manager Gareth Southgate will on Thursday name his squad for the forthcoming friendlies against Holland and Italy, with the World Cup just three months away.
Kane left the Vitality Stadium on crutches and wearing a protective boot after sustaining the injury in the process of scoring a 29th-minute disallowed goal.
Kane suffered ligament damage to the same ankle twice last season.
He was sidelined for seven weeks and missed 10 Spurs games due to the initial injury, picked up against Sunderland in September 2016.
However, he then returned to action within a month of sustaining a similar problem in an FA Cup tie with Millwall last March.
Tottenham manager Mauricio Pochettino was optimistic about the latest injury setback and said Kane remained upbeat.
"We hope that it's not a massive issue," said the Argentinian coach.
"He felt that when he ran and twisted his ankle that it was impossible to stay on the pitch.
"Harry has a great character and is always positive, happy with the victory for the team, of course disappointed with his problem.
"But if you're positive you start the recovery from injury from now."