Rory Best has insisted he will not use Eddie Jones' "scummy Irish" comments as part of his team talk ahead of Saturday's Grand Slam battle with England.
Ireland will chase just a third-ever NatWest 6 Nations clean sweep with victory over England at Twickenham this weekend.
England boss Jones has apologised twice this week after a video surfaced on Wednesday, where he criticised Joe Schmidt's team and called Wales a "little s*** place".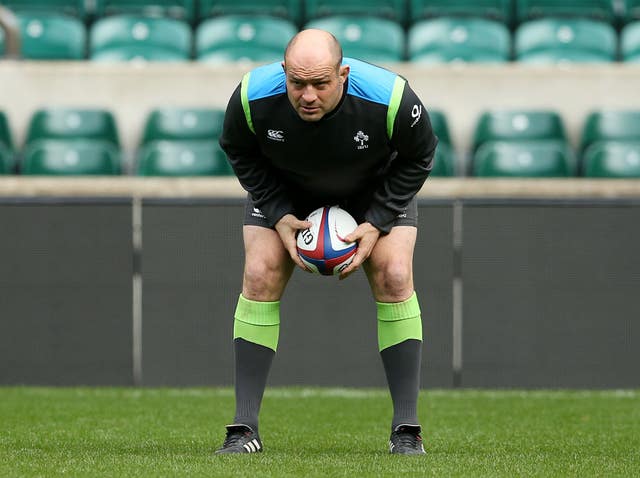 The 110-cap hooker is adamant Jones' barbs towards Ireland remain a mere "sideshow", with a third Six Nations title sewn up but the Grand Slam still on the line.
Asked if he would use Jones' comments in his team talk on Saturday, Ireland captain Best said: "No, no. Look it's not something we're focusing on.
"It'll be a massive game tomorrow, we're not worried about those sorts of things.
"A lot of players and people have done those private Q and As and I'm sure he didn't mean it to be offensive towards Ireland or Irish rugby.
"So if we start to get distracted with a sideshow like that and bits and pieces, it takes us away from what is important to us.
"And what is important to us is the 80 minutes of rugby in front of us."
England have lost successive away games to Scotland and France, and seen Ireland leapfrog them into second in the world rankings in a frustrating Six Nations for Jones' side.
Best and full-back Rob Kearney are Ireland's only survivors from the 2009 Grand Slam, and the 35-year-old Ulster front-rower has admitted Schmidt's side need a near-perfect performance for victory.
Best insisted too it would be "madness" to believe England have lost their edge despite those two defeats on the road.
"England are a quality side, and disputing that would be madness," said Best.
"They've yet to lose here under Eddie Jones. And we expect them to do what they have been doing here, and that's produce a big performance.
"All this talk of backlash, for players it's not really important for them, for players it's making sure you produce the right level of performance.
"Twickenham is a big fortress: there's no point trying to hide away from that.
"There's always a fear factor when you're playing international rugby, because you are playing the best players in the world.
"And when you step on the pitch tomorrow you're playing an England side fairly well full of some of the very best players in the world.
"Some have shown it recently, some last summer and some over a long period of time.
"So there's that fear factor when you play them, there's nerves and everything that goes with that. So it is about going out and performing for us.
"You always have that consolation prize of the championship, but having put ourselves in this position we want to go on and achieve something special."