Ronnie O'Sullivan is looking forward to the day when he can swap one marathon for another.
Snooker's biggest star heads into the gruelling 17-day Betfred World Championship as favourite after a stunning season which has brought him a record-equalling five ranking titles.
But each year O'Sullivan has to focus on his baize battles at this time of year, and that rules out a tilt at the London Marathon every April for the keen amateur athlete.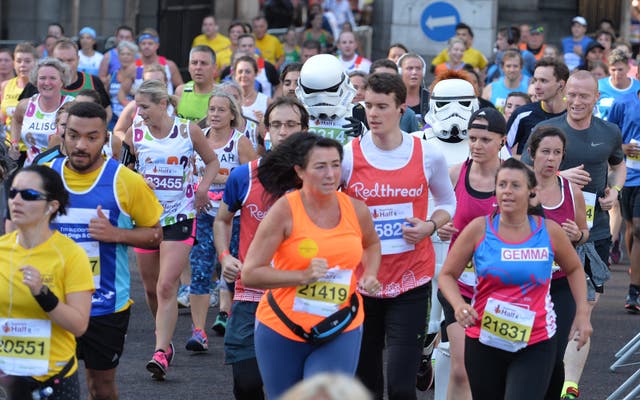 "I've never really trained for the marathon, although I could run one," O'Sullivan said.
"If I was doing it I'd want to do it in a good time. I've never been a marathon runner, more five or six miles, so it's probably something I'll do when I finish snooker.
"I'll definitely do one when the time's right but the time's not right at the moment, I've got too much going on."
O'Sullivan is targeting a sixth title in Sheffield, where the tournament, often described as a marathon of the mind due to its sapping mental demands on players, begins on Saturday. After already earning £824,500 this year, a run to the final would see him become the first player to ever earn £1million in a season.
He tackles Scotland's Stephen Maguire in the first round, a tough opener against a player who has twice reached semi-finals at the Crucible.
"Stephen's a fantastic player and the sort you wouldn't want to draw in the first round," O'Sullivan said.
The 42-year-old O'Sullivan took a swipe at tournament officials for banning football shirts, which means the familiar front-row tradition of Coventry fan Brian Wright in one of his many retro Sky Blues tops could be a thing of the past.
O'Sullivan said it was the wrong call from World Snooker, whose chairman Barry Hearn has backed the ban.
"You pay your money, you get your ticket, you should be allowed to wear whatever you want," O'Sullivan said.
"It's quite laughable when you read it really. At darts they seem to be walking about in Superman outfits."
O'Sullivan is two short of matching Stephen Hendry's record of seven Crucible titles, and three behind the great Scot's haul of 36 ranking event triumphs. Both feats are firmly in his sights even as he looks to play down his hunger for success.
"To compare records is pretty difficult. The best record is someone like Roger Federer's who's done it in tennis when Rafael Nadal and Novak Djokovic were around so it makes that all the more impressive," O'Sullivan said.
"If he was coming along now he'd probably win about 40 majors. I'm not sure how to measure myself against Stephen Hendry other than as long as I keep getting a buzz from snooker I'll keep doing it.
"I've won it five times and it's a nice feeling but it's probably not as good a feeling as you'd think it is."