England captain Harry Kane is excited to be part of Tottenham's future after signing a new six-year contract.
The 24-year-old striker's agreement commits him to Spurs until 2024 and follows manager Mauricio Pochettino extending his own deal until 2023.
Kane's decision to stay put comes as a welcome boost for Spurs, who made the announcement with footage of their new stadium.
Tottenham are due to return to White Hart Lane next season, after a season as tenants at Wembley.
"I'm really excited, it's a proud day," Kane said on tottenhamhotspur.com.
"Obviously it's been a great few seasons and I'm looking forward to the future.
"I'm looking forward to the new stadium first and foremost and just to keep progressing as a club.
"It's been fantastic to consistently get in the Champions League so I'm really excited to have another go at that and with the Premier League and FA Cup, we'll look to go as far as we can.
"For us as a club, it's just about keeping improving and we'll work hard to do that."
Kane scored 30 goals in the recently completed Premier League season, when Spurs finished third, and finished with a total of 41 goals in all competitions. He has passed 20 goals in each of the last four seasons.
Kane has previously been linked with moves to Manchester United and Real Madrid, but the latest agreement shows he sees his immediate future at Spurs.
Pochettino has also been linked with Real, with his five-year deal signed a week before Zinedine Zidane announced his departure from the Bernabeu.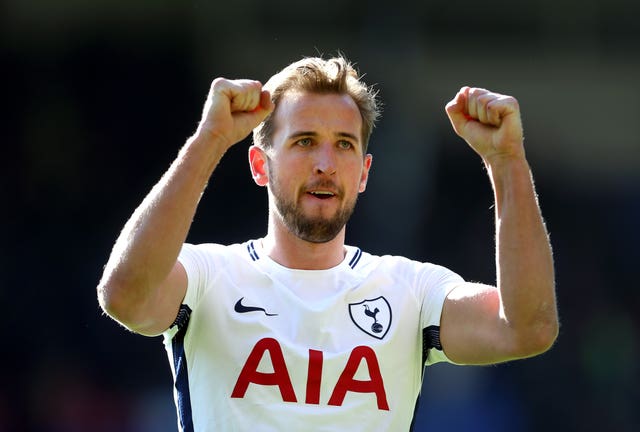 He made his debut in an August 2011 Europa League tie with Hearts and has had loan spells at Leyton Orient, Millwall, Norwich and Leicester.
He is now Tottenham's leading scorer in the Premier League era, surpassing Teddy Sheringham's club record of 97.
He netted 56 goals for Spurs and England in the 2017 calendar year.
That saw Kane break Alan Shearer's calendar year record for Premier League goals, with 39, including back-to-back hat-tricks against Burnley and Southampton at the end of the year.
He has scored a total of 108 goals in 153 Premier League appearances.
He made his England debut in March 2015 against Lithuania and has scored 13 goals in 24 England appearances.
All five of Kane's appearances as captain have come under Gareth Southgate.
"I'm obviously really excited about the World Cup coming up so it's nice to get this done before that and I'm just looking to go out there and enjoy it now," Kane added.
"It's been a great season, like always the aim is to try to improve so hopefully I can do that this summer and obviously next season as well."