British Embassy officials in Russia have sounded an optimistic note ahead of England's first match at the World Cup, praising Volgograd for the welcome it has given the Three Lions' travelling support.
Around 2,500 England fans are expected to attend the Group G game against Tunisia and pre-tournament concerns about a hostile reception in Russia have so far not materialised.
A representative for the embassy in Moscow told Press Association Sport: "The people of Volgograd are welcoming British fans to their city today, ahead of England's game against Tunisia.
The embassy has been planning for this for more than two years but those plans have had to evolve as Anglo-Russian relations have deteriorated.
First, there was the organised attack by Russian hooligans on England fans in Marseille at Euro 2016, and then there were a series of disputes between the countries which culminated in the tit-for-tat expulsion of diplomats in the wake of the Salisbury nerve agent attack, which left a former Russian spy, his daughter and a policeman critically ill.
That pessimism, however, has not been born out by the evidence of the tournament's opening weekend, with Russia's promise to clamp down on its hooligans appearing to have worked, nice weather, good football and lots of signs that Russians are desperate to be good hosts.
Embassy staff in Moscow have visited all 11 host cities over the past year to discuss safety, security and trade opportunities and have made follow-up visits to Volgograd, Nizhny Novgorod, Kalingrad and Rostov-on-Don, where England will play their group games and possibly a last-16 game.
British police have visited, too, with UK Gold Commander for Football Policing, Mark Roberts, coming to Russia twice and a delegation observing last summer's Confederations Cup.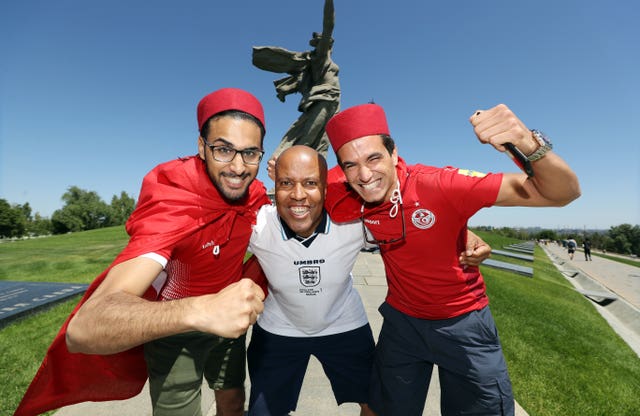 But caution and common sense are still the watchwords, with embassy staff and UK police encouraging supporters to 'Be on the Ball' – a best-behaviour campaign that the Football Association and fans' groups have championed since 2004.
With this in mind, fans are advised to be across the 'Be on the Ball' page on the www.gov.uk website and follow Foreign and Commonwealth Office advice on Facebook and Twitter at @FCOtravel.