Carl Frampton will defend his WBO interim featherweight title against Australia's Luke Jackson at Windsor Park on August 18.
Former WBO, WBA and IBF heavyweight champion Tyson Fury will also continue his comeback on the undercard in Belfast.
Frampton, 31, had long spoken of his ambition of fighting at Northern Ireland's national football stadium and his promoter Frank Warren revealed he is planning a further fight with IBF champion Josh Warrington before the end of the year.
Frampton had previously expected to fight Lee Selby before a defeat by Warrington ruled the Welshman out, and of fighting at Windsor Park he said at a press conference streamed by BT Sport: "I thought it was probably never going to happen, but Frank's done a good job and it's finally happening.
"I've dreamed about it for a long time now. The atmosphere created at Windsor Park for a football game can't be rivalled anywhere in the world – it sounds like there's 80,000 people in there. We're hoping to have 23,000, 24,000 in there. To have Tyson Fury on any undercard is amazing – he's a bill topper.
"I respect anyone who's willing to come to Windsor Park and fight me. There's bigger fights on the horizon but I can't overlook Luke Jackson. Windsor Park deserves me to put on a top quality performance. If he beats me it can change his life and it's up to me not to let that happen.
"Big Fury wouldn't beat me out there, at Windsor Park."
The 33-year-old Jackson is an Olympian who has won each of his 16 professional fights.
He said: "My father was telling me we have some ancestors from Ireland, so this is like home. I've a massive opportunity here – not many would come to fight Carl Frampton in his backyard but I'm willing to. I'm looking to (change my life).
"As a fighter he doesn't do anything great but he does everything very, very well. I'm going to have to be at my best.
"I'd just got back from a holiday in Bali (when I was asked about the fight) and I took it with both hands."
Fury, 29, has won each of his three previous fights in Belfast. The most recent came against Kevin Johnson in December 2012, and he said: "Last time I boxed here was six years ago, and it's always been very welcoming. It's going to be even more welcoming as a returning world champion.
"I hope this time I'm going to get someone who's going to have a fight with me, punch me in the face a couple of times, give me a busted nose and a busted mouth."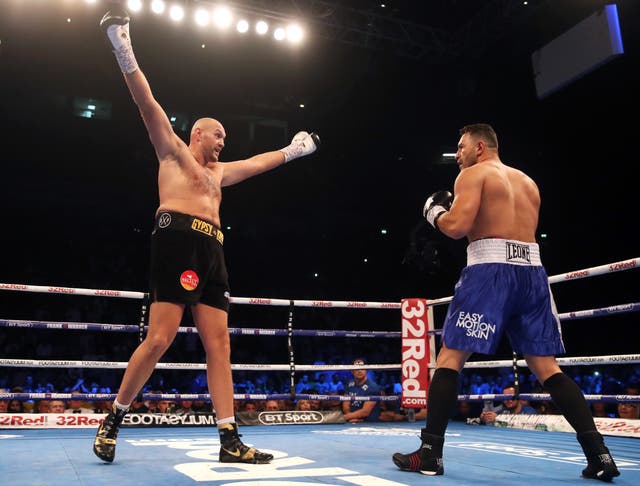 "If Carl comes through, one way or the other, that fight (against Warrington) – if they're both winning fighters – will happen next year. If he wins, he'll fight Warrington next. I'm meeting Josh tomorrow."
Also on the undercard, Ireland's Paddy Barnes will challenge for a world title for the first time. In only his sixth professional fight, he faces WBC flyweight champion Cristofer Rosales, from Nicaragua.