Mohamed Salah's exceptional season is set to come to an agonising end after hosts Russia all but extinguished Egypt's World Cup hopes.
A dream first season at Liverpool helped establish the 26-year-old as one of the star names at these finals, with expectations heightened as his country strutted out on the global stage for the first time since 1990.
But the shoulder injury sustained in the Reds' Champions League final defeat to Real Madrid derailed preparations, meaning Salah was reduced to a watching brief as Group A started with a late defeat to Uruguay.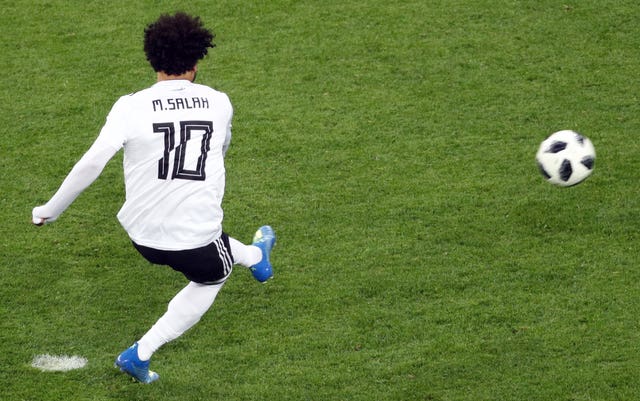 "I think that nobody can deny or argue Mo Salah's importance in the Egypt national team," Egypt head coach Hector Cuper said after a loss that leaves them facing a group-stage exit.
"What would have happened if he'd been on top form in both matches? Well, that's very hard to say now.
"But I think that he would have given us all his quality and his ability.
"You've seen him on the pitch, he was in good shape and nobody can argue that he isn't extremely important to the team.
"But I always say behind a player or two brilliant players, there has to be a team and I feel proud because I've had a team.
"Perhaps we weren't decisive enough, perhaps we lacked that little extra thing to get there, but I must recognise the great effort that they have done after 28 years where Egypt had not taken part in a World Cup."
Egypt will be knocked out if Uruguay avoid defeat against Saudi Arabia on Wednesday, with their seemingly imminent exit leading Cuper to come under immediate pressure.
"If those responsible are not happy with what I have done then I will be the first to leave. There's no doubt about that.
"But we still have another match to play.
"It is difficult to say this but in the World Cup you have to wait until the very last minute, although it's true that our chances are minimal."
The reception for Russia counterpart Stanislav Cherchesov could scarcely have been starker.
Widely expected to crash out of Group A, the hosts are instead it on the brink of progress to the knockout phase after following the 5-0 thrashing of Saudi Arabia with another comprehensive win.
"We needed the win in order to solve our goals," Cherchesov said.
"It is clear that the Egyptians also needed to win in order to maintain their chances and we also wanted to win.
"Those are two psychological poles, however you put it.
"We are aware that Egypt doesn't always manage what they need to do because they cannot be number one at all times, so sometimes they just need to settle for number two.
"The questions about Salah which was put to me yesterday also needed to be solved.
"This morning (Yuri) Zhirkov agreed to participate because for a few days he or his foot hadn't been in shape.
"We knew what to do against him and what we set as a target we managed to fulfil."
Cherchesov was applauded out of a press conference that also saw recent allegations of doping raised.
"This is actually a post-match press conference, isn't it?" the Russian coach said. "It has no relation with the match whatsoever.
"Maybe you have a question about the match we just played. If you do, I'll be happy to answer you."