With Roger Federer and Rafael Nadal dominating the men's grand slams over the last 18 months, there has been one man who has pushed them closest.
Federer and Nadal have rolled back the years and between them have won the last six majors, claiming three apiece.
And in the absence of Novak Djokovic and Andy Murray at the top of the game it has been Croatian Marin Cilic who has been the best of the rest.
Cilic was a beaten finalist in last year's Wimbledon and followed it up with another runner-up spot at the Australian Open in January.
Federer and Nadal have been swapping positions at the top of the rankings over their most recent period of domination, but Cilic wants to muscle in.
And the Croatian knows he will have to win Wimbledon in order to start cutting the gap.
"The ultimate goal is to reach number one," Cilic said. "That's my goal in terms of my tennis results and looking ahead for my improvement.
"You can't actually be number one without winning those big tournaments so that's a big focus and big goal."
Cilic's hopes in SW19 will be dented by Federer's seamless return to the game after skipping the clay-court season.
The 36-year-old had not played since the end of March but came back on the grass in Stuttgart last week to win his 98th career title and will again be favourite for a ninth Wimbledon crown.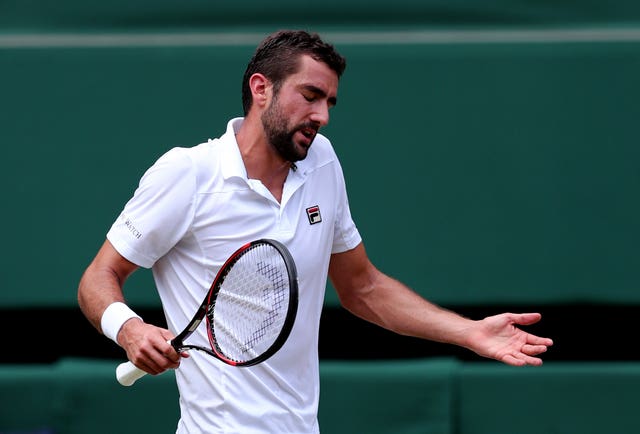 Djokovic, who made the quarter-finals at the French Open, is on an upward curve after a difficult two years which saw him lose momentum and undergo elbow surgery.
He has won Wimbledon three times, so will again be a contender, but grass has not always been his favourite surface.
"At the beginning of my career I thought that grass just isn't that surface for me," Djokovic said.
"I love it now. The first day I already feel that I had adjusted to the surface, that I'd gotten familiar with it. There are certain elements in my game that I feel always need working on like serve, volleys, coming to the net and those types of things and grass is a perfect surface for those things to be worked on."