Jason Roy has become a habitual record-breaker for England but insists he is merely taking "stepping stones" to the moments that count – in next year's World Cup.
Roy admits the "heartbreak" of being dropped from last year's Champions Trophy semi-final, and then having to watch England be knocked out by Pakistan, remains a driving force to put things right in 50-over cricket's biggest global tournament.
Along the way, he is compiling a remarkable string of brilliant performances at the top of the order. The 27-year-old has recovered from some patchy form which followed his national-record highest one-day international score of 180 in Melbourne at the start of the year.
Roy's latest century at Chester-le-Street, his second in three innings against Australia either side of making 82 in England's new world-best 481 for six at Trent Bridge, helped the hosts ease past a ground-record target of 310 for eight and move to the verge of a first 5-0 ODI whitewash of their Ashes rivals.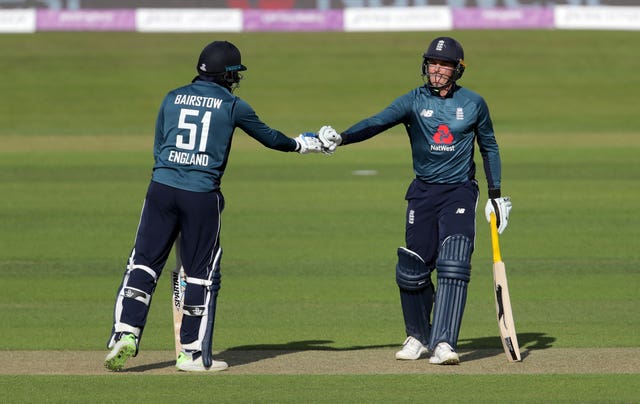 Roy hopes more than anything, though, that all those heroics prove appropriate milestones to a maiden World Cup title for England.
"The records are fantastic obviously, and it's a nice reward for the hard work we have put in," he said.
"(But) our main aim is to make sure these are just stepping stones to the bigger picture – the World Cup.
"It's great breaking all the records and stuff – but at the end of the day, the aim is to have this confidence come the World Cup."
Roy's England career has so far brought him 89 white-ball caps, and six ODI hundreds, but it has been far from seamless.
He completed a sequence of nine innings without a half-century when he was bowled for a second-ball duck last week by Billy Stanlake on his home ground at The Oval in the first match of a series which will conclude at Old Trafford on Sunday.
Self-doubt never kicked in, though.
"It was interesting hearing that I was struggling," said Roy.
"I got a couple of 40s, and obviously those aren't good enough as an opener.
"I felt pretty good in New Zealand, (but) just didn't get a big score … I just wasn't kicking on."
He is disinclined these days to look even further back too often, to the misery of being left out of England's team in Cardiff a year ago.
Nonetheless, the chastening experience – individually and collectively – continues to focus England's minds on converting their world number one status into global silverware.
"As a kid I did look up to the Champions Trophy and wanted to play well," he added.
"But I got dropped – and that was heartbreaking for me – so going away and putting in the hard work, I know I'm going to get my rewards.
"Let's hope this time next year I'm at the World Cup, I'm in decent form and can win some games for the team."
The holy grail apart, Roy is content that England's current table-topping status is a case of just deserts.
"It's not a surprise – we are working extremely hard," he said.
"We have put in a lot of hard work and deserve the results we are getting.
"We are all very good friends – it's just a case of wanting the best out of your mate.
"It's pretty simple."