England's World Cup quarter-final captured the attention of the nation on Saturday afternoon, Gareth Southgate's mean beating Sweden 2-0 to make the last four.
However, not everyone was able to watch. With play at Wimbledon, the Irish Open golf and qualification for the British Grand Prix all going on, there were conundrums aplenty.
Here, Press Association looks at how those forced to be elsewhere made the best of it.
England cricket
England's T20 squad were on a rest day ahead of tomorrow's decider with India in Bristol.
As such, they were able to watch the game at their leisure, as opposed to on Tuesday when they were in the dressing room after the first T20 clash.
Captain Eoin Morgan found himself giving his post-match press conference while a TV screen at the back of the room beamed in the latest action from Russia.
This time they were therefore able to watch from the comfort of their Bristol hotel, after travelling down the M4 from Cardiff in good time to bag an unrestricted view.
Irish Open golf
Unlike at Wimbledon, tournament organisers gave fans a choice of watching the football, putting it up on one of the big screens at Ballyliffin.
English players Danny Willett and Lee Westwood were on the course for nearly all of the game, with the latter able to see the final two minutes.
"I knew when Maguire scored, they (people in the crowd) told us going to the 14th tee and then they told us on the 17th tee that we were 2-0 up.," he told Press Association Sport.
"They seem to be a unit and a team for this World Cup, which seems to be different to how we've been in the past. We've been trying to fit players in because individually they were great players but this one we seem to pick the players to suit the team and the way that Gareth Southgate sees us playing.
"It looks like they've bought into his philosophy and they're sticking to it."
British Grand Prix
Lewis Hamilton had joked he would miss his press conference if it clashed with the football, but attended and gave a fist pump as news of England's opener came through.
"I really wanted to get pole, and give a boost to England. I'll start the wave, and let them continue," he said. Race-goers were able to watch the game on big screens around Silverstone.
Wimbledon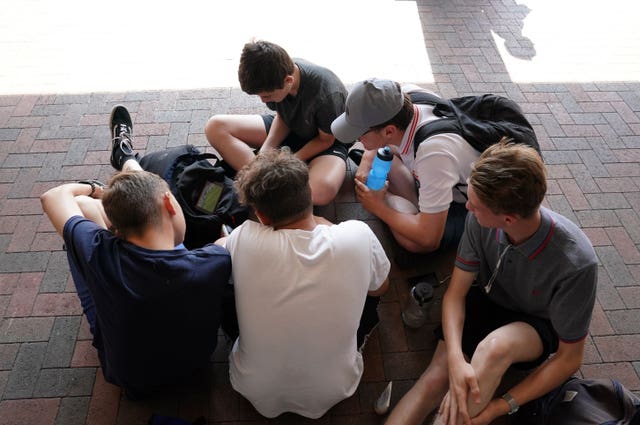 Simona Halep's match against Hsieh Su-wei had just finished when Harry Maguire headed England into the lead, prompting some spectators to burst into song.
There were then cheers on Centre Court when the match ended in Samara, which came just after Angelique Kerber's match with Naomi Osaka had reached a conclusion.
But England's appearance in their first World Cup quarter-final since 2006 otherwise hardly registered at the home of tennis.
Wimbledon chiefs once again stuck to their guns, refusing to show the football on the big screen in front of Henman Hill.
A smattering of people in England shirts were on the hill among the thousands watching Rafael Nadal's win over Alex De Minaur on the screen.