Chris Woakes' maiden Test century and record stand with Jonny Bairstow put England out of sight against India on day three of the second Specsavers Test at Lord's.
Woakes (120no), recalled after injury here as a replacement for Ben Stokes while England's premier all-rounder has been otherwise engaged at Bristol Crown Court this week, marked the occasion memorably.
He became the seventh Englishman to put his name on the Lord's honours boards as both batsman and bowler during a partnership with Bairstow (93) which realised 189, helped the hosts recover from 131 for five to 357 for six by stumps and is their best for the sixth wicket against India.
For Woakes, it was a heartening comeback from the thigh and knee problems which ended his white-ball summer and also ruled him out of his home Test at Edgbaston – where England went 1-0 up with a thrilling 31-run win a week ago.
England were never in danger of handing the initiative right back to India after bowling them out for 107 the previous day, but it was thanks only to Woakes and Bairstow that they wrested it away so completely to lead by 250 when bad light brought an early close.
Four lbws featured in the first five dismissals, two through an element of batsman error and two distinctly less so.
Keaton Jennings was the first, losing his bearings to Mohammed Shami's inswing to be hit right in front.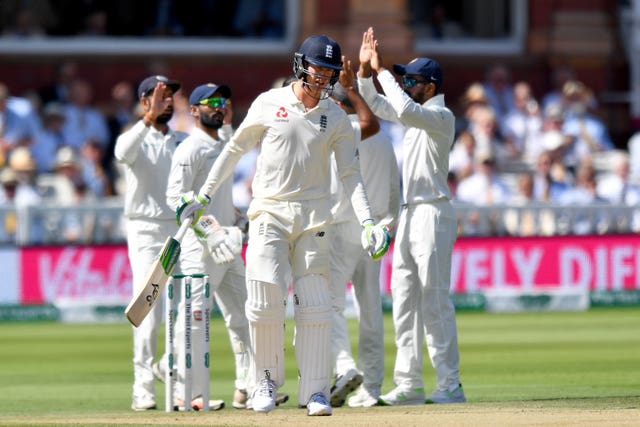 Cook could not be blamed in the next over, however, when Ishant Sharma had him caught behind with an outstanding delivery which was slanted up the slope from round the wicket but jagged away off the pitch.
Two wickets had fallen for four runs, before Root and Pope dug in to add another 45.
The captain was by far the less convincing, but Pope fell first when Hardik Pandya moved one up the slope at him.
Root followed him back to the final ball of the morning, another struck in front by one from Shami that kept low and did plenty into him off the pitch.
Jos Buttler's lbw departure after lunch, India's only success of the afternoon, was of his own making as his tactical shuffle towards Shami (three for 74) also took him across the crease and into trouble.
The clouds were building, but conditions conversely easing a little.
There was still much skill required of Woakes and Bairstow, who were the first two batsmen in this rain-ravaged match to reach 30.
The wicketkeeper was especially adept against spin, altering the length and moment of impact with exaggerated foot movement forward or back.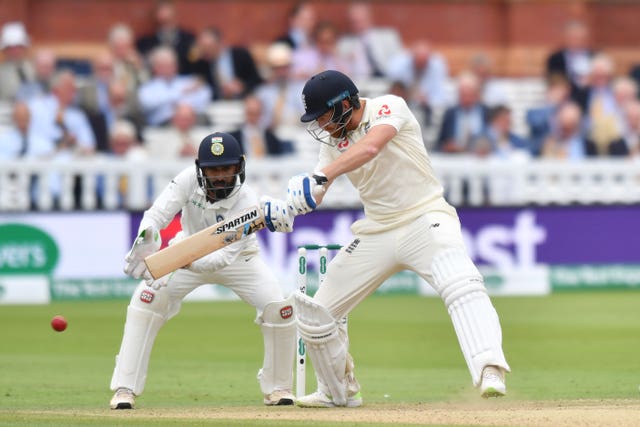 It was a method which allowed him the distinction of out-scoring even the counter-attacking Bairstow, on his way to a 129-ball hundred which contained 15 fours.
Soon afterwards, the Yorkshireman fell short of what would have been his sixth Test hundred when he was caught behind by a diving Dinesh Karthik as he tried to carve off-side runs off Pandya.
But Woakes was not done yet, and still there at the close alongside Sam Curran.
India, meanwhile, appeared to have one spinner too many and a seamer too few for this assignment, as a one-innings policy began to take shape for hosts – whose only remaining stumbling block is a forecast for the return of bad weather for day four.