England head coach Trevor Bayliss has called on Ben Stokes to make a public apology over the events which led to his eventual acquittal for affray.
Stokes was cleared of any criminal wrongdoing at Bristol Crown Court on Tuesday – almost 11 months after being arrested following a brawl outside a nightclub in the Clifton area of the city.
Within two hours of the end of the case, England announced their premier all-rounder was being added to the 13-man squad for the third Specsavers Test against India at Trent Bridge – from which he was omitted the previous day.
Bayliss, who reported a final call is yet to be made on whether Stokes returns to a winning side this weekend, acknowledged a public apology should and probably will be forthcoming.
He pointed out Stokes has already apologised to his team-mates, in New Zealand last winter when he rejoined them after having to miss the Ashes while a criminal charge was being considered.
Asked if Stokes should make the same comments publicly, Bayliss said: "Certainly.
"I think it was important to actually apologise to the boys in the team, management of the team and management at the ECB – who had to go through a lot of extra activities to work our way through it."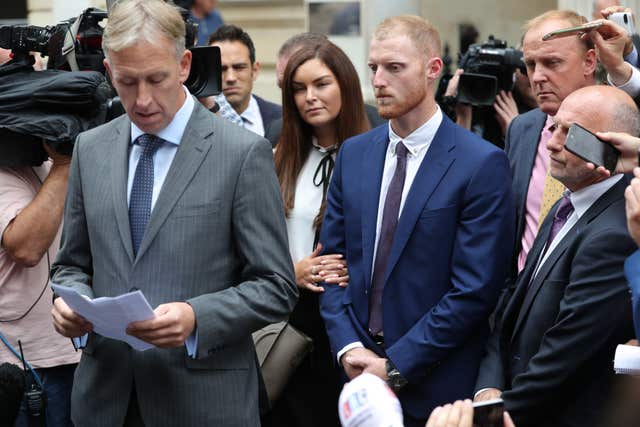 "That'll be up to Ben and his management team, I suppose.
"But certainly, when he came out to New Zealand he addressed the players in the changing room when he first arrived.
"So from our point of view, his contrition was evident for the boys in the team."
Stokes has already missed six Test matches – including last week's at Lord's, which clashed with his court case – and 11 limited-overs fixtures for England, as a result of the night out in Bristol.
It seems highly likely he will be playing again this weekend as England try to wrap up the series 3-0 – although Bayliss stopped well short of confirming that.
He said: "There's nothing automatic about selections – we'll see how he is mentally as well as physically."
England's quick decision to recall Stokes to their squad came only after significant consultation involving captain, coach, acting ECB director Andy Flower and national selector Ed Smith.
"It was basically thought that for his own well-being, it was good to get him back around cricket," said Bayliss.
"I'm happy for Ben that's all over.
"I know away from this incident and round the game he is an honest, humble guy – I can't see this situation being any different."
Speaking on the day England rugby player Danny Cipriani was fined £2,000 after pleading guilty to common assault and resisting arrest, Bayliss voiced his confidence that England's cricketers know what is expected of them to uphold their sport's image.
"All sportsmen have to have a good, hard look at themselves and not put themselves in those types of situations," he said.
"Since a couple of small indiscretions in Australia [last winter] I can sit here and say that I think the players have finally woken up.
"Ben certainly understands he was out when he shouldn't have been and got involved with something that he shouldn't have been involved in.
"I'm sure it has been a wake-up call for him."