Lewis Hamilton celebrated one of the finest victories of his career after he went behind enemy lines to stun Ferrari and take a major step towards securing a fifth world championship.
The fanatical Tifosi supporters arrived in Monza for the Italian Grand Prix expecting to see Sebastian Vettel convert a Ferrari lockout of the front row into a crushing win.
Instead, they saw their number one championship contender fall out of the reckoning after just four corners following a clumsy opening-lap collision with his rival.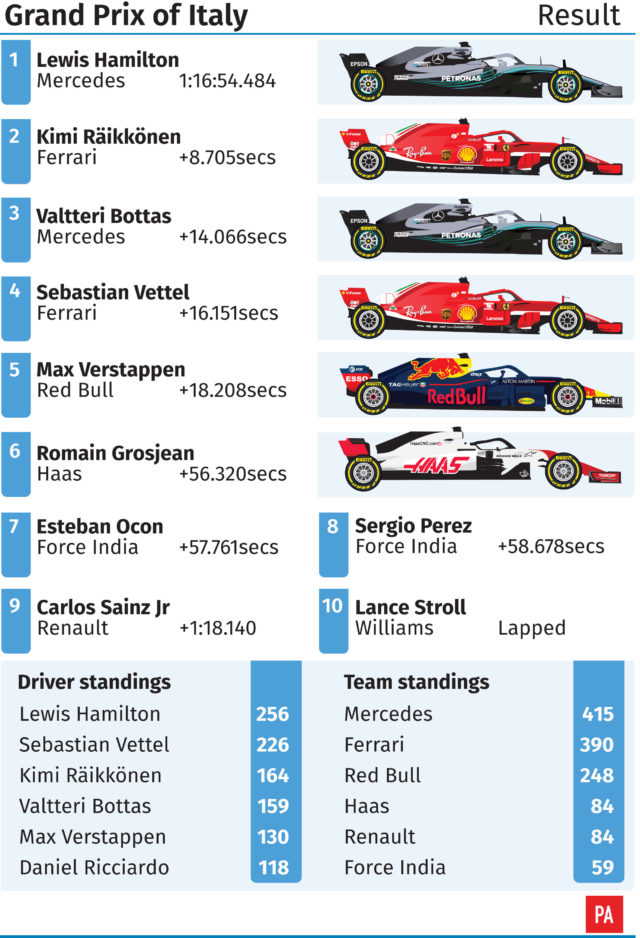 Ferrari had been quicker than Mercedes all weekend at the Temple of Speed, yet it is Hamilton who departs the Italian team's homeland having extended his championship lead over Vettel from 17 to 30 points with seven races to run.
"Given the sheer pressure that we are under, I will definitely consider this win to be right up there in my career," Hamilton, who was subjected to loud boos on the podium, said.
"There are a lot of Ferrari fans out there, and you hear a lot of negative sounds, but that only encourages and energises me.
"When I spot the British flags amongst the Ferrari red, that is my fuel, and I get my positivity and energy from them. They are the miracle today."
Vettel was at his commanding best seven days ago to win in Belgium, but his defeat here is a major setback in his championship quest, and from one which he will struggle to recover.
On a frantic opening lap, Vettel covered the inside at the second chicane, but Hamilton moved to the racing line and was ahead going into the corner. Vettel did not want to concede the place, and in doing so, thudded into Hamilton's Mercedes before spiralling into a spin.
Vettel, who limped back to the pits for repairs, blamed Hamilton for failing to leave him enough room as they tangled. "Silly", was the German's verdict.
The stewards took no action, but Nico Rosberg, the 2016 world champion, had made up his mind.
"I think it was 100 per cent Sebastian's fault," Rosberg said on Sky Sports commentary. "Hamilton gave him all the room. He's not going to become world champion if he keeps doing these things."
Indeed, it marked Vettel's fifth big error of the season, while Hamilton has largely failed to put a foot wrong. It is proving the difference.
With Vettel out of contention, Hamilton could have been forgiven for settling for second, but that is not in the Briton's psyche.
On lap four, he briefly took the lead after sailing past Raikkonen on the main straight only for the 38-year-old Finn to bite back two corners later.
The gap between Raikkonen and Hamilton remained, in and around one second, before the Ferrari driver pulled in for new tyres on lap 20. Hamilton went on for a further eight laps before stopping for new rubber.
He emerged six seconds down on the Ferrari car, and that looked to be that. But a combination of his blistering pace, and Valtteri Bottas in the sister Mercedes, who, having yet to stop was backing Raikkonen into Hamilton's path, saw that lead evaporate.
Then, with only eight laps remaining, Hamilton made his move. At 220mph, he drew alongside Raikkonen on the main straight before diving to the left and masterfully making his pass stick round the outside of the Ferrari car at the opening chicane.
"I didn't want to walk away with here leaving something on the table," Hamilton said. "I love the wheel-to-wheel battles, and it is the thing I love most about racing.
"That was one tough race, but really fun and enjoyable. This season is shaping up to being one of the best."
Bottas completed the podium positions. Max Verstappen was demoted to fifth after pushing Bottas off the track.
Romain Grosjean was later disqualified from sixth place following an irregularity on the floor of his Haas car.