Joe Root hopes destiny has a farewell Test century in store at The Oval for the "most down-to-earth superstar" Alastair Cook.
Root, who took over as England captain from Cook last year, spoke of his sadness when the all-time national record runscorer took him aside last week to explain his 161st Test will be his last.
England subsequently sealed the Specsavers series with a 60-run success to go 3-1 up with one to play, and Root is hoping the stage is set for both Cook and his team to deliver the perfect send-off.
Root confirms the veteran opener is not the type to lap up the fuss, but reasons it will be entirely appropriate on an occasion such as this – and a 33rd Test century to match his age would not go amiss either for a batsman who began his "fabulous career" with a hundred on debut in 2006.
"It would be nice to start and finish with a century – you never know, it might be written in the stars," he said.
"He doesn't want too much fuss – but if ever there was a time for it it is now.
"It means a lot to the whole dressing room, and they will be desperate to do everything they can to give him a great send-off, that means making sure we win this game.
"It's an extra incentive for us as a group and would be a fitting way to finish a fabulous career. He just deserves a fantastic week, and I hope we can deliver that for him."
Root feels a particular personal debt of gratitude.
"He's been a huge influence on me," he added. "As a role model, there aren't many people who go about things in a better way.
"He's the most down-to-earth superstar you'll ever see. He's always got time for everyone.
"I'll miss him being around – not just for his runs and what he adds to the team but as a person as well."
Cook singled out his captain as confidant about his impending retirement before the fourth Test.
Asked what his reaction was then, Root paused noticeably before saying: "Sad. It's been an outstanding career – 12 years at the top of the order.
"There's not many openers around the world who can match that, never mind English players."
He added on BBC Test Match Special: "The way he conducts himself in the dressing room, to every single person, the respect he has for the game, for all of his team-mates and the opposition, it is what everyone aspires to. You'll never see someone of his stature again in the game."
Root had one other significant matter to address at his pre-match press conference – the unexpected decision to hand England's Test wicketkeeping gloves back to Jonny Bairstow, recovered from the broken finger which meant Jos Buttler did the job instead last week.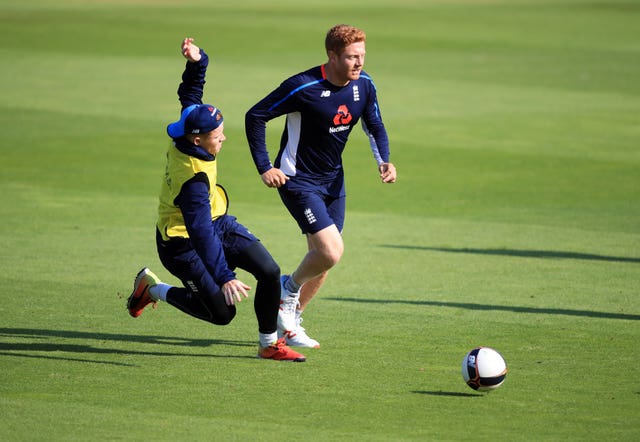 "Jonny has had the gloves for a long time and done exceptionally well for a good period of that," he said.
"I think he deserves the opportunity to keep wicket in Test cricket. I also think Jos has done exactly the same in white-ball cricket, why mess with something that has worked so well for so long?"