Per Mertesacker has helped Arsenal and Save The Children launch a coaching programme at Za'atari Refugee Camp in Jordan.
The former Gunners captain and current Arsenal academy manager visited the camp to help set up the new initiative, that has been 18 months in the making.
Arsenal and Save The Children's new scheme is being piloted in Jordan and Indonesia, and Mertesacker recently paid a visit to the Za'atari camp, that houses nearly 80,000 Syrian refugees.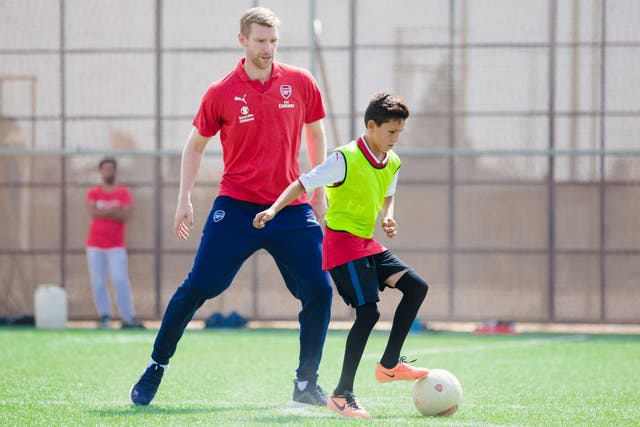 "It was a privilege for me to visit. The young people I met focus on what is happening now and this project will give them courage to cope with the struggles they face day to day, as well as providing them with the skills to have a better future.
"Whether you're a young person on one of our community programmes in north London or part of our academy, you're part of the Arsenal family. We take our responsibility as a club seriously."
Coaching modules on the new programme will use football as a vehicle to discuss issues like decision making, self-esteem and conflict management.
"Children living in Za'atari have experienced things that no child should ever have to," said Save The Children Jordan chief executive Rania Malki.
"This innovative programme is helping us reach the most vulnerable children in the camp, particularly those at risk of child labour and early marriage."