Michael O'Neill has embraced the expectations placed on his Northern Ireland squad ahead of their UEFA Nations League opener against Bosnia and Herzegovina on Saturday.
After qualifying for Euro 2016 and coming close to making this summer's World Cup, Northern Ireland will start the new competition targeting promotion to Division A rather than fearing relegation to the third tier.
"For me, it's good to see players turn up for international duty with a smile on their face and a real purpose and a belief they can achieve something," said O'Neill.
"Expectation is a good thing. The worst thing you can have in football is no expectation."
It is a far cry from the mood in the team when O'Neill first took the job in 2011.
"You have to go through that situation as a manager and as a group of players," he said. "I didn't just come in with a magic wand and everything just fell into place. That didn't happen.
"What we managed to do was get every ounce out of the players that we could."
O'Neill believes those expectations can help continue the momentum Northern Ireland developed in their last two qualifying campaigns as he looks to younger players to freshen up his squad.
"To have that within the group, it's a great time for young players to come into the squad. In the early years it was difficult for them because we were struggling to get results.
"Now they come in and we're on an upward curve. The benchmark is set higher for them. The lads coming in are going to have to perform well to stay in the squad and the team."
Among those younger players is Leeds goalkeeper Bailey Peacock-Farrell, who is hoping to make his first competitive start on Saturday.
If he plays on Saturday, a switch would no longer be permitted but O'Neill said that would not determine his team selection.
"It's always a factor but I'll pick the goalkeeper that I think deserves to play," he said.
"At the end of the day I don't think we'll lose Bailey. He's committed to us. But it's a competitive game, the start of a new tournament. The goalkeeper that is chosen is the goalkeeper I think deserves to play."
The changes are not just in goal. Chris Brunt has retired, while there will be a younger defence on show with Gareth McAuley not match fit having only signed for Rangers on Monday, and Aaron Hughes ruled out with a calf injury.
The transition does expose the one major concern for O'Neill amid the optimism around the team, and that is their strength in depth.
"We're still not strong in terms of our depth," he said. "We've not leaving players out of the squad who are playing at a good level."
O'Neill said he was hoping to see three or four players make the breakthrough during the Nations League, but admitted nothing is guaranteed.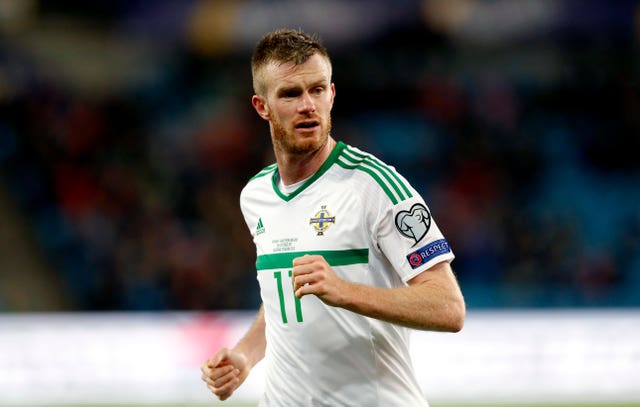 "We can't manufacture players. We have 25 players here, and outside of those players there aren't any making a big enough impact with their clubs to merit being part of the squad at this moment in time.
"The number of players outside the squad, I could count them on two hands. It's not like we have 20 or 30 players on the periphery of things.
"The opportunity will be there for the younger players if they do emerge, but at this minute I'm clinging on to hope."