Gareth Southgate will take Harry Kane out of the firing line for Tuesday's friendly against Switzerland in a bid to protect the England captain from burnout.
The Tottenham striker is considered irreplaceable by both club and country, leading to concerns over fatigue as he continues to shoulder a draining burden.
He played for 573 minutes at the World Cup this summer, picking up six goals and the Golden Boot along the way, and has started 61 matches in all competitions since the start of last season.
Defeat against Switzerland would see England lose four games in a row for the first time in their history but the non-competitive outing in Leicester represents a chance to hand the 25-year-old a well-earned breather.
As many as nine changes are expected from the side which started the 2-1 Nations League defeat by Spain, with Eric Dier confirmed to captain a team set to feature the likes of Jack Butland, Ruben Loftus-Cheek, Fabian Delph, James Tarkowski and Danny Welbeck.
"Harry falls in the category in which we have several players where we have to watch how much they play," said the Three Lions boss.
"It was a short break with no pre-season and everybody was back earlier than I am sure everybody would have expected for club matches, although that is entirely understandable.
"We talked a bit after the World Cup about the demands of the modern player. Everybody has got to play a part in that but the clubs own the player and they have got to do the right thing for themselves.
"Normally we have not got opposing objectives and the clubs would be holding their breath and hiding behind their sofas watching our teams go out.
"But this is one of those occasions where what we want to look at with our squad ties in with doing the right thing with the players for our long-term benefit. So I thought this is a good opportunity to do it."
For Southgate, it is important for England to find a way of winning without their totemic centre-forward.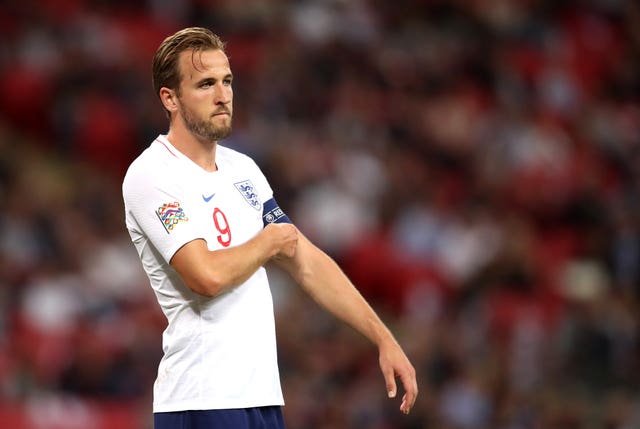 "There aren't many English strikers playing," admitted the 48-year-old.
"There's obviously some older ones who have good goalscoring records at club level but I'm not sure that's necessarily the route we want to go down. We're hopeful that a couple of the younger ones will start to get games and develop.
"I still have a lot of faith in the likes of (Liverpool's Dominic) Solanke in particular, who I think has been outstanding at every age level. But I can't rule out anybody because if people play well it
would be foolish to ignore them."
The former Middlesbrough boss even hinted an ill-timed injury or two at the business end of the qualification cycle could see him testing Vardy's suggestion he would return in dire circumstances.
"Not over the next few months…but if we get to the European Championship qualifiers and we think there's a situation where we feel Jamie would come in and play then it might be different," he said.
"But in this period, we're determined to invest in some of those younger guys really."
Southgate has been clear in the past about his concerns about the number of elite players at his disposal, and particularly the amount of game-time being experienced by those.
He did, though, balance that with a nod of sympathy towards his home nations counterparts.
"In fairness, if I was (Wales manager) Ryan Giggs or (Northern Ireland's) Michael O'Neill, I'd be saying 'what the hell is he complaining about?' They have to select their players from different sources," said Southgate.
"But we're in a different era in terms of numbers of players who are in the pool.
"To be as good as we want to be going forward, it's got to be some of the kids who have been successful at youth level for us. That's a better investment for us in the long term really."