Gareth Southgate hailed Harry Maguire as one of the best ball-playing defenders in Europe ahead of the England centre-back stepping out on home turf.
Since going to Euro 2016 with his friends to watch the Three Lions take on Slovakia, it is fair to say the 25-year-old's ascent has been remarkable.
The last 15 months have been particularly impressive after swapping relegated Hull for Leicester, where he swept up at the end-of-season awards before starring in England's run to the World Cup semi-finals.
Maguire repaid Southgate's faith in spades in Russia and the Three Lions boss believes the defender is one of the best around.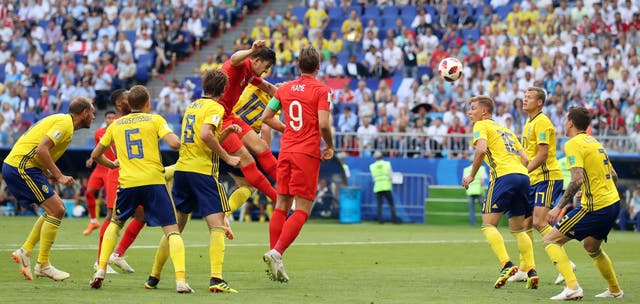 "The reason for that being when I was watching him during last season I knew that on the biggest stage he'd be able to perform and excel.
"I was so pleased he was going to have the opportunity to do that and he delivered.
"He's a superb defender, he's really effective in both penalty boxes and the way that he brings the ball forward and can use the ball is as good as anything in Europe, in my opinion.
"I think he proved to himself as much as anything that against some top players and some top teams in the lead-up to the finals, during the finals and again Saturday night that he can compete with the very best."
Maguire did well in Saturday's 2-1 UEFA Nations League defeat to Spain and is in line to win his 14th cap when England take on Switzerland in a friendly at the King Power Stadium.
"It has been a crazy last couple of years for myself," the imposing Leicester defender said. "I think from the summer just the experience of playing in big games, at a World Cup, playing in high-pressure games.
"In my career I haven't really done that so far, so to go out there and play in a World Cup – probably the biggest tournament in the world – and play under the pressures that were there, it gives me a great belief that I can go and have another good season."
Maguire's performances led to summer interest from Manchester United.
It would have been easy for the defender to agitate for an exit, but the defender stayed at the King Power Stadium and recently signed a new deal until 2023.
"Obviously after the World Cup I came back and sat down with the owners and they reiterated what they wanted to do," Maguire said.
"They wanted to reward for me a great season and obviously a successful World Cup with England.
"I am looking forward to the future now and where we can go as a club."
Asked if there was ever a possibility of leaving in the summer, he said: "No, I don't think so.
"There was a little bit of interest there and then.
"But, no, it was always on my mind when I spoke to the owners and they wanted to keep me at the club and extend my contract, I wanted to play for this club and I am now looking forward to the future."
Maguire is also pleased to see others at Leicester getting recognition, with Demarai Gray and Ben Chilwell receiving their first senior call-ups ahead of Tuesday's friendly.
"I think they're both really top players, top talents," he added."They've been with the 21s for a long time now, so they know the way that England works.
"I am really pleased. It put a big smile on my face when I saw them both get called up.
"We've got a young squad at Leicester, lots of English players too, so I am looking forward to seeing what comes from them."