Manchester United boss Jose Mourinho said he was more disappointed after Saturday's 1-1 draw with Wolves at Old Trafford than he had been following last month's 3-0 loss to Tottenham.
Mourinho was critical of his players' attitude in a game which saw a fine strike from Wolves' Joao Moutinho in the 53rd minute cancel out Fred's 18th-minute opener.
It ended a run of three successive wins since that defeat at home to Spurs, and it could have been worse but for the performance of David de Gea.
Mourinho said: "If we had played against Wolves like we played against Tottenham, then I think we win.
"It looks a contradiction, but I'm more disappointed than I was against Tottenham. Because against Tottenham, obviously we lost the game, but I liked very, very much my team's performance.
"(Against Wolves), of course, we had a better result – one point is better than zero. But I did not like my team."
The Tottenham match on August 27, a second successive defeat at the time, was United's previous home game.
Between then and Saturday's contest – which was watched from the stands by former United boss Sir Alex Ferguson on his first return to the ground since having emergency brain surgery – the Red Devils had played three away matches and won on each occasion.
Premier League victories at Burnley and Watford were followed up on Wednesday with a 3-0 Champions League win – on a plastic pitch – against Switzerland's Young Boys.
Mourinho added: "We won three matches away. We come home with a good spirit, we come home let's say in peace because we recover.
"Then you start in a poor way. I could say (we were) tired, Champions League, awful pitch, the body suffers a different impact than (in) a match on natural grass, not coming home after the match.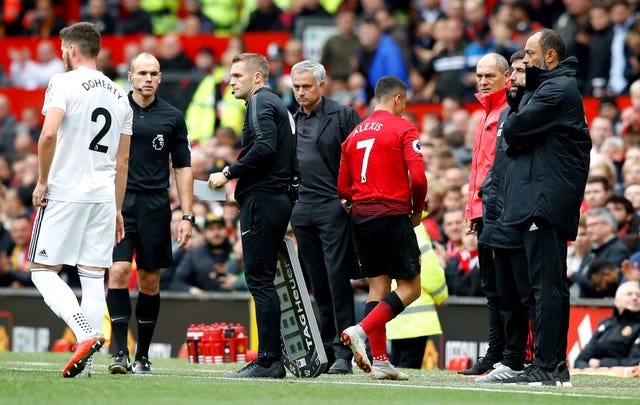 "So I think, yes, it's a mental situation, an attitude. One team was coming to play the game of their lives, and another one was too relaxed."
Wolves, back in the Premier League this term after winning the Championship last year, have nine points from six games so far, one point less than United – who are eight behind leaders Liverpool.
Boss Nuno Espirito Santo, whose side have also drawn 1-1 against champions Manchester City this term, expressed his pride in what he had seen from his players.
"I'm proud of the way we started the game, and proud of the character we showed after, when we were (1-0 down)," he said.
"I'm proud of the way we played – the way we defended, organised, putting bodies in front of the ball, and the way we created, produced our chances. We played the way we wanted to play."