Tiger Woods completed one of the greatest comebacks in sport after holding his nerve to win the season-ending Tour Championship in Atlanta.
And only a birdie on the 72nd hole from Justin Rose prevented Woods from claiming the overall FedEx Cup title as well, Rose two-putting from 25 feet on the par-five 18th to claim the £7.6million bonus in remarkable fashion.
Chasing a first win since 2013 and the 80th PGA Tour title of his career, Woods took a three-shot lead over Rose and Rory McIlroy into the last day at East Lake.
And the 14-time major winner was never in serious danger of getting caught despite a late stumble, completing a closing 71 to finish 11 under par, two shots ahead of fellow American Billy Horschel.
It was a day that many thought might never happen again and thousands of Woods' delirious fans spilled onto the 18th fairway to follow their idol to the green after his approach found a greenside bunker.
Chants of "U-S-A" and "Tiger, Tiger" broke out before playing partner McIlroy could attempt his eagle putt, McIlroy wisely then tapping in for his birdie in a disappointing 74 to leave the stage clear.
And, although Woods could not match it, he held his arms aloft in celebration of a brilliant win just days before the Ryder Cup gets under way in Paris.
"At the beginning of the year [winning] was a tall order, but as the year progressed and I proved that I could play and I found a swing and put pieces together I knew I could do it again," Woods told Golf Channel.
"I was having a hard time not crying on that last hole. I said, 'Hey I could still blade this thing out of bounds'.
"Once I got the ball on the green I gave Joey [La Cava, his caddie] a high five because it was was done and I could handle that from there."
In a last-ditch bid to save his career, Woods underwent spinal fusion surgery in April last year and was arrested on suspicion of driving under the influence the following month when he was found asleep at the wheel of his car.
The 42-year-old, who had five prescription drugs in his system, later pleaded guilty to reckless driving, underwent a diversion programme and spent 11 months on probation, returning to competitive golf at the end of November by admitting he was "winging it" as he waited to see if his fused back would hold up.
"I've been in bed for about two years and haven't been able to do much," Woods revealed ahead of the Hero World Challenge, where he would finish ninth in the 18-man field.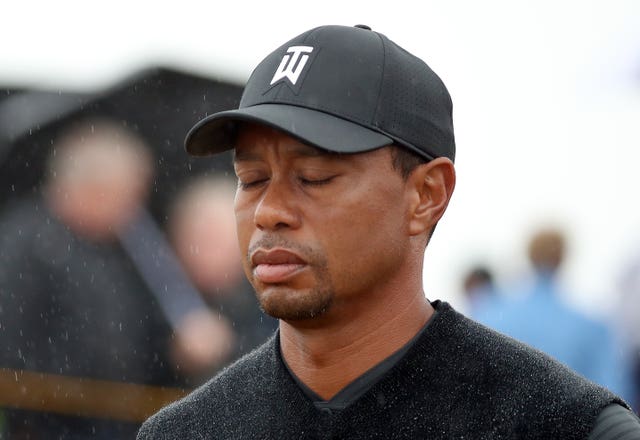 In that sense his victory in Atlanta came as no surprise, but for anyone who had watched Woods become a shadow of his former self in recent years, surprise – or even amazement – would be a completely understandable reaction.
The only disappointment on Sunday was that no-one was able to mount a challenge to Woods, who made the ideal start with a birdie on the first and saw his nearest rivals stumble.
McIlroy's hopes of winning the Tour Championship for the second time in three years disappeared with a front nine of 39, while Rose dropped three shots in six holes on the back nine before his late heroics.