Frank Lampard hailed Derby's "special performance" against 'the Special One' after knocking his former manager Jose Mourinho and his Manchester United side out of the Carabao Cup.
Just days after a meek home draw against Wolves, things got worse for United as their much-changed side deservedly bowed out to Sky Bet Championship opposition at Old Trafford.
United paid for their failure to build on Juan Mata's early opener, with Harry Wilson scoring an exceptional free-kick and substitute Jack Marriott directing home either side of Sergio Romero's sending-off for handling outside the box.
Marouane Fellaini's stoppage-time goal secured a 2-2 draw that took the third-round tie to penalties, where Derby goalkeeper Scott Carson denied Phil Jones to settle a high-quality shoot-out 8-7 and give Lampard the most memorable win of his short managerial career.
"I think I need time (to digest it)," the Rams boss said.
"It was special – a special performance. To come to Manchester United and not to just nick one, but I think to play the way we played, doing all the things we have been working towards in a short space of time.
"To do it on this stage against this team full of top players with our squad which has some younger boys in it as well – the players were immense. What a night for the club to come here and do that."
Lampard was delighted that his group had "the confidence and the balls to play like that" before forgetting their penalty practice to net eight straight spot-kicks.
"We practiced them yesterday, so I certainly wasn't sure because a few ended up in the bushes at the back of the training ground!" the ex-England international said with a smile.
But few would argue that Derby did not deserve to progress on Tuesday, including Lampard's former Chelsea manager.
"He said what a great performance it was from the team," the County boss said of Mourinho. "I appreciate that because it's not easy in defeat in that last moment.
"I think he actually said that before the penalties, but I appreciate it.
"Jose was very welcoming as a whole. We obviously know each other, and he came and spoke to me before, we spoke during and afterwards. It was an honour for me to go up against him."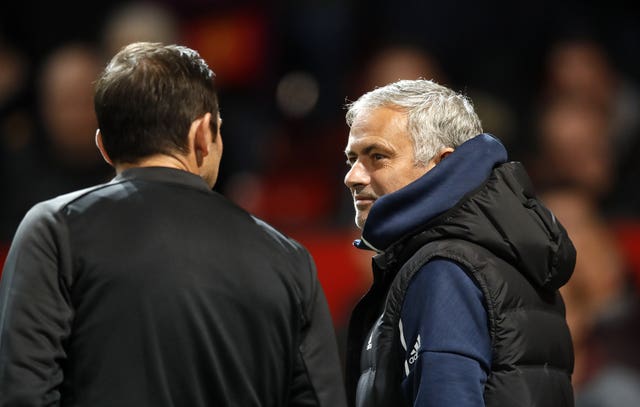 "You know it happened that we didn't score when we could, and we could in the first half," the United manager told Sky Sports before swerving the post-match press conference.
"We had good situations to kill it. We didn't and at half-time I repeated basically the same words I said in the last match, telling the players that their dressing room was for sure a dressing room with belief because the result was open and because they were playing quite well.
"We need to go and to kill the game, which we didn't. We couldn't be dominant in the beginning of the second half and only after their equaliser we had again that reaction that I don't like.
"I prefer not a reaction, I prefer to be proactive and to go for it. But then we go for it only after the 1-1 and after the red card, we are in a bit of difficulty.
"But even then with one man less, it was a reaction of pride, a reaction of a group that didn't want to lose the game and that tried until the last second.
"Then the penalties come, and somebody has to miss. And when I saw it going after the sixth, the seventh (penalty) I knew that we were going to be in trouble with Jones, with Eric (Bailly). I knew we were going to be in trouble then."