Patrick Reed was the central figure as the recriminations began in the American press the morning after Ryder Cup defeat to Europe.
Reed's quotes blaming Jordan Spieth for the end of their previously successful partnership led the way in the New York Times under the headline: "In Ryder Cup, Europe Leaves Egos at Door. Those of U.S. Slam the Door."
Golf Digest noted: "Patrick Reed's wife adds fuel to the fire regarding Reed-Spieth split", drawing on tweets seemingly from Reed's wife Justine – though she denied knowledge of them.
The article also noted that Reed, who earned the nickname 'Captain America' after starring in the last two tournaments, "looked more like Aquaman with several balls finding the water" as he and Tiger Woods lost to Francesco Molinari and Tommy Fleetwood on Saturday.
Under the headline "US has European way figured out except for winning", the Washington Post wrote: "This is no time for the Americans to panic about the Ryder Cup.
"The goal that came out of the Ryder Cup Task Force in late 2014 was to have a winning record over the next 10 matches. So even after another thorough beating by Europe at Le Golf National, the Americans still have 16 years before deciding if they're on the right path."
In Europe, the success of a combined continental team amid the contentious Brexit negotiations was bound to be remarked upon and French newspaper L'Equipe's front page proudly proclaimed "The Union shows its strength" – above a picture of Englishmen Ian Poulter and Tommy Fleetwood.
In Italy the focus, unsurprisingly, was on Molinari after the Open champion earned a maximum five points, including the clincher against Phil Mickelson.
La Gazzetta Dello Sport wrote "Molinari is Mr Ryder" while Corriera Della Sera added: "Molinari the hero of Europe".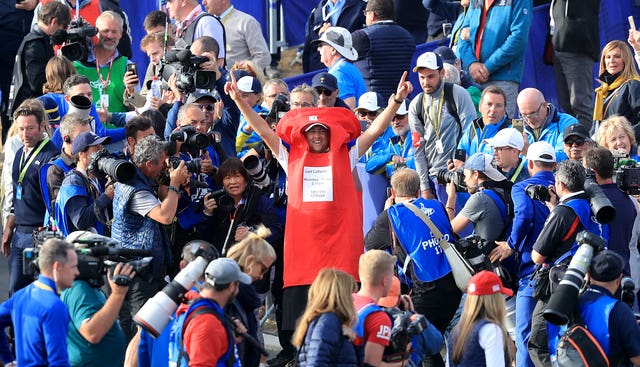 Poulter, nicknamed 'The Postman' because he "always delivers" for Europe, donned a spectator's postbox fancy-dress costume after victory was sealed.
Those celebrations led the way in the British media, with the Daily Express writing "Francesco Molinari gets the party started as Europe thrash abject Americans".
The Daily Mail focused on the presence of footballers Aaron Ramsey and Alex Oxlade-Chamberlain among the celebrations, writing: "The former Arsenal team-mates had backstage passes and the likes of Rory McIlroy, Justin Rose and Ian Poulter were more than happy to let them join in the party after USA were beaten."
Captain Thomas Bjorn's reckless promise to get the winning score tattooed on his body was noted by the Guardian and Independent, while the Mirror led on Rahm's emotional response to his singles win over Woods – which he dedicated to the late Seve Ballesteros.
In the Daily Telegraph, meanwhile, feature writer Oliver Brown wrote: "Tiger Woods and Phil Mickelson bomb yet again at the Ryder Cup, but is captain Jim Furyk to blame?"