Gareth Southgate re-committed to improving England's fortunes by signing a new deal through to 2022 before naming arguably his boldest squad to date.
With the ink still drying on his improved contract, the 48-year-old doubled down on his focus on youth by handing maiden call-ups to Jadon Sancho, Mason Mount and James Maddison.
Injuries and a lack of game-time have led to some moves being fast-tracked, but Southgate has no qualms about playing the youngsters in this month's tough Nations League double-header in Croatia and Spain.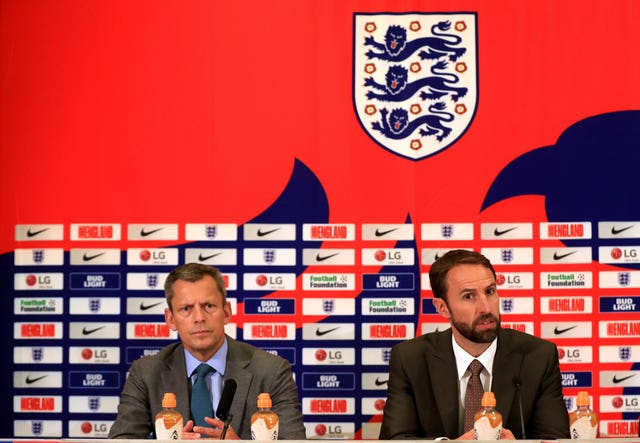 "I feel as if there's still a chance to improve what we're doing," Southgate said after extending his contract. "I think it's a huge challenge.
"We know it's not straightforward. You can see the squad we've picked, it's very different to the Spain squad for example in terms of those big-match experiences.
"But I don't think you should then just duck that challenge because it's difficult.
"OK, we've got to think differently about it, be bold in some of our decisions and we'll get some of those right and some we won't get right.
"But we inherently care about the project in a way that maybe would be difficult to find in something else."
Football Association chief executive Martin Glenn stated that England will eventually win the World Cup and European Championships when announcing Southgate's new deal – striking comments, albeit less forceful than former chairman Greg Dyke pinpointing silverware in Qatar .
The countdown clock to 2022 has since been taken down at St George's Park, but the focus and hunger remain under Southgate.
"The clock isn't here anymore, but what it did, it shaped our thinking and our behaviours," said the England boss, who also called up Harry Winks, Ross Barkley and Nathaniel Chalobah.
"Where actually if you don't have a target like that… we started to work back from there. What experience would our young players need to be ready to win at that time?
"That definitely formed a lot of the thinking for (outgoing FA technical director) Dan (Ashworth) and myself when heading national junior teams."
Sancho epitomises that pursuit of progress.
The first player born since the turn of the millennium to be called up by the England senior team, the 18-year-old is reaping the rewards of last year's bold switch from Manchester City to Borussia Dortmund in search of regular football.
Southgate joked that assistant Steve Holland, who has also signed on until 2022, had been watching Sancho disguised in "a flat cap and glasses" in Germany, where the teenager's displays were enough for a call-up regardless of the current injury issues.
"To have a player starting in the Champions League is of importance to us," Southgate said.
"The decision to move tells you something about his character and you can see that in the way he plays – he has tremendous belief in himself.
"To adapt to a new country, a new language, culture and a different style of football is a brilliant experience for a young man."
Mount, currently on loan from Chelsea at Derby, is another to have experienced football abroad, with the 19-year-old having spent last season at Dutch side Vitesse Arnhem.
A number of other young players are heading abroad in a bid to make an impact, but Phil Foden remains on home soil with Manchester City.
The star of England's Under-17 World Cup triumph last year, the 18-year-old has made just two starts in all competitions for the Premier League champions.
"Well, I think with Phil he's physically a bit further back than the other guys," Southgate said.
"He has not played as much men's football. He is a little bit of a later developer in that area.
"I totally understand that, so I don't think there is any rush for Phil.
"I think he is progressing really well, he is getting great experience with some game-time at his club and working with outstanding players in training every day which will help him develop."