Maurizio Sarri has backed coach Marco Ianni to redeem himself at Chelsea after goading Manchester United manager Jose Mourinho.
Italian manager Sarri insisted Chelsea will "accept the consequences" of Ianni's Football Association charge for improper conduct, for the Blues' backroom staff member's wild celebrations in Saturday's 2-2 Premier League draw with United.
Sarri pledged to hand Ianni a shot at redemption, while also reiterating his apology to United and Mourinho.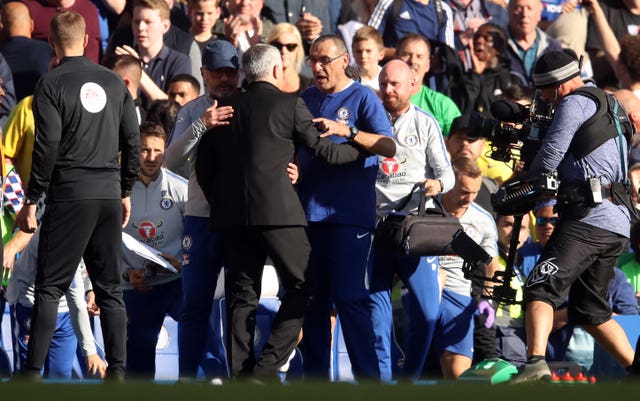 "He said sorry immediately, and it was really very important I think that he realised he was wrong.
"And so I think that I want to give him another opportunity. Because I know very well the man, I know very well that he was really sorry.
"And he realised the mistake, everybody I think can make a mistake.
"But you need to learn from the mistake and so I think he will be able to do this. I know very well the man, so I am sure.
"For the FA I don't know, I haven't experienced that here. I don't know the consequences, but we were wrong so we have to accept the consequences."
Asked what punishment Chelsea would impose internally, Sarri replied: "I don't know. If I want to give him another opportunity the opportunity will be a full opportunity.
"But I don't know. I want to respect the decision of the FA and then we will decide.
"I think everybody has to learn from their mistakes. I think that now like a man I am better than when I was 35.
"Otherwise I am a stupid man, if I am not able to learn from my mistakes I think that I am stupid."
Blues boss Sarri also revealed Belgium playmaker Eden Hazard will miss Thursday's Europa League clash against BATE Borisov with a back injury.
Sarri admitted Chelsea are working hard to have Hazard fit in time for Sunday's Premier League trip to Burnley.
"Tomorrow he (Hazard) is out for sure," said Sarri. "He has a back problem. We are trying to solve the problem for Sunday."